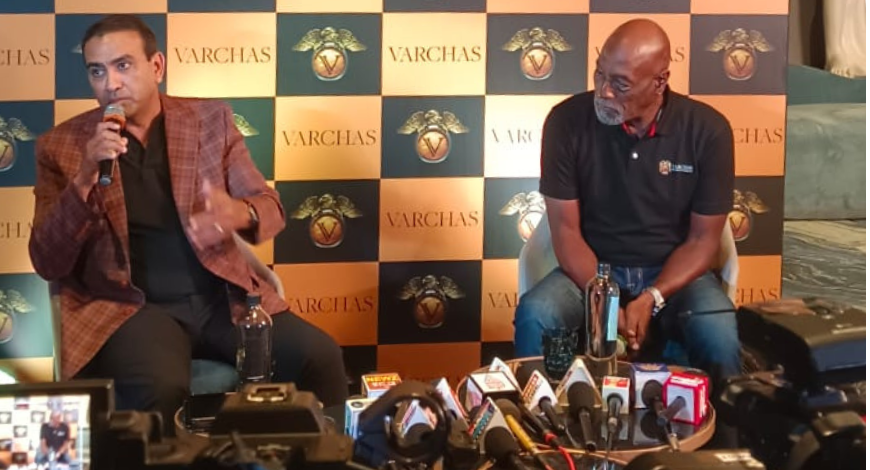 Varchas, a product of Shankar Distillers out of Troy, Michigan, announced the renowned cricket player, Sir Vivian Richards as the brand ambassador for their premium products.
Varchas is known for producing high-quality products that embodies the rich heritage and craftsmanship of the distilling industry. The collaboration with Richards, a personality admired and respected by millions, aims to establish the brand as a symbol of excellence in the world of spirits.
"We are thrilled to welcome Sir Vivian Richards to the Varchas Moments family. His dedication, charisma, and passion perfectly complement our commitment to crafting exceptional moments. Together, we aim to create memorable experiences for our consumers and take our brand to new heights," said Varchasvi Shankar, President and Founder, Shankar Distillers and V2Soft.
Sir Vivian Richards shared his excitement about the partnership, saying, "I am honored to be a part of the Varchas family. Just as I've strived for excellence in cricket, Shankar Distillers is committed to excellence in the art of distillation. I look forward to representing a brand that shares my values of perfection, dedication, and a relentless pursuit of greatness. My mission is to support social causes in my home country of Antigua and Barbuda and this partnership would allow me to contribute to various initiatives such as supporting Renal Society this year."
Throughout his illustrious cricketing career, Sir Vivian Richards achieved a remarkable series of records and milestones. Sir Vivian Richards, often hailed as one of the greatest cricketers of all time, exemplifies excellence, determination, and a relentless pursuit of perfection – values that resonate with Varchas Spirits. Known for his unbeatable spirit and unmatched style, Sir Vivian Richards will be the face of our exceptional Moments, embodying the essence of the brand.
Shankar Distillers were established by Varchasvi Shankar, a serial entrepreneur, and the CEO of the global technology company V2Soft, a 25 year old company. In 2022, a remarkable partnership blossomed during a Cricket Legends event in Michigan when he and the iconic Sir Vivian Richards joined forces. Together, they are not only dedicated to building the Varchas brand but also actively contributing to charitable causes in Antigua, the United States, and India. While Sir Viv supports Renal Society, Varchas has been supporting Wildlife Conservation Foundation in India.
In 1994, Richards was appointed an Officer of the Order of the British Empire (OBE) for services to cricket. In 1999, he was made a Knight Commander of the Order of the Nation (KCN) by his native country Antigua and Barbuda. (Source The Business Standard)