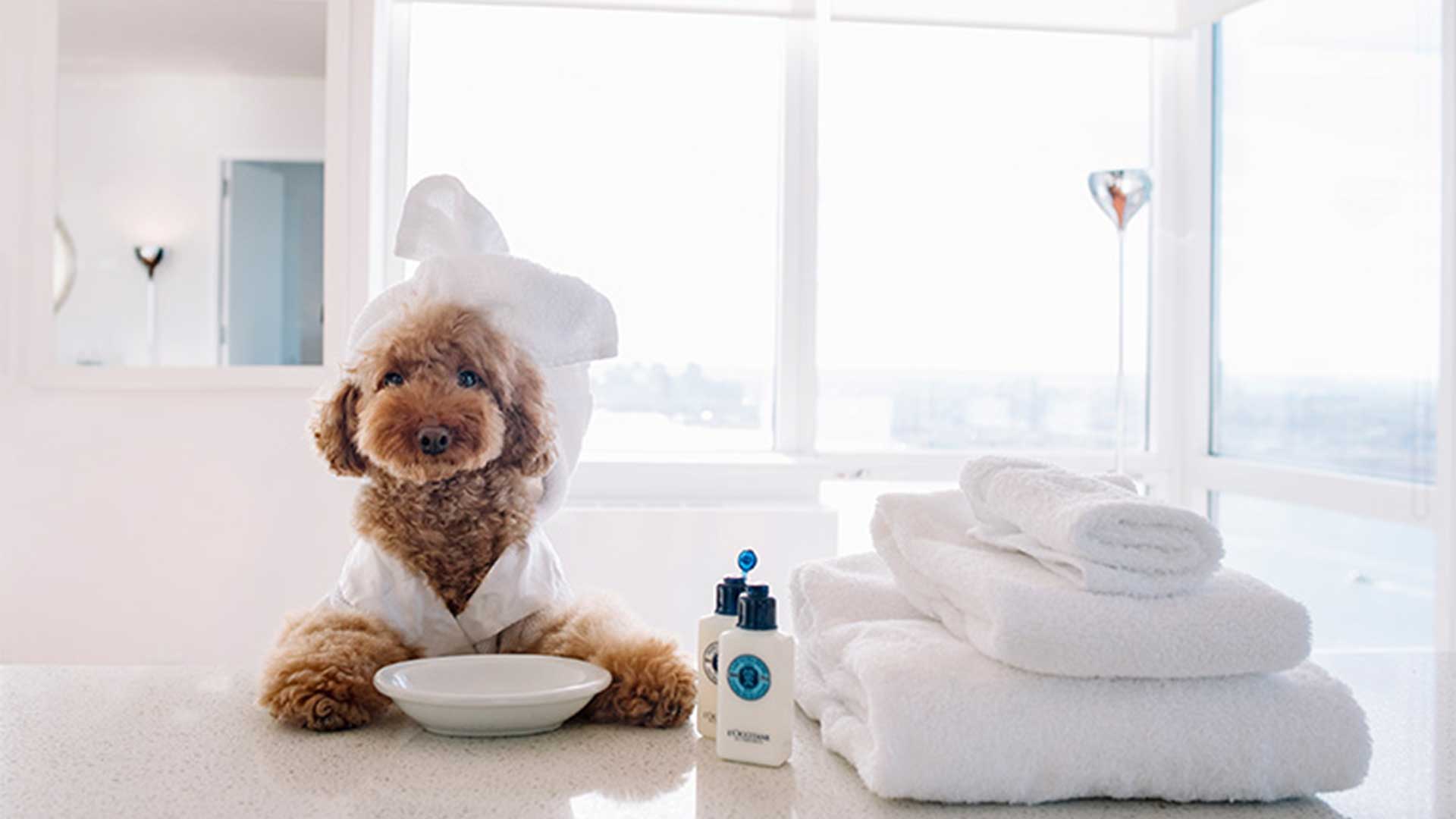 A CAGR of 8.4% is expected of the global pet hotels market, due to the growing demand during the forecast period. It is anticipated to be appraised at US$ 9,679.1 Million by 2032, up from US$ 4,320.6 Million in 2022.
Changes in demographic trends for premium pet care services, such as group play activities across developing countries, as well as the increasing awareness regarding veterinary health, are expected to increase the demand for pet hotels.
Although, the availability of various tools and supplies in established luxury pet stores has driven the concept of home boarding, which may negatively affect the pet hotel market. Conversely, increasing awareness campaigns and pet ownership promotions by governments and organizations globally. Pet owners/parents are becoming more conscious and sentimental towards their pets.
Key players in the pet hotels market share genuinely strive to care for and pamper pets whose owners/parents live busy lifestyles and require to travel a lot. Moreover, these hotels are ideal for pet owners who wish to go on vacations and bring their pets along since most regular hotels do not allow pets to enter.
The pet hotels that are established to essentially foster or pet sit these cuddly animals while their parents are away come equipped with all the facilities that are needed to provide absolute comfort to the pets. Most pets tend to suffer from separation anxiety when they are away from their guardians, which is why pet hotels magnify their hospitality towards their love and care.
These factors are expected to drive the demand for pet hotels. For instance, key players provide round-the-clock pampering to the pets, which includes proper food portions according to their diet needs, ample walk time and playtime, and making sure they are always supervised.
They further maintain their training exercises to keep them healthy and disciplined. Furthermore, these hotels have veterinarians available 24×7, who cater to the healthcare needs of the pets. There are clinical spaces that have been configured for these furry friends to recover at the earliest, in a way that they are visible to their parents and allows them to check on them whenever they desire.
Another aspect as to why the adoption of pet hotels is on the rise is that pets who may fall sick during their stay at this hotel, are housed in a roomy area where they are given the freedom of movement and good ventilation for the pet respiratory tract.
In addition, disinfectants are used as a routine to ensure no diseases are carried into the building or spread through ventilation to limit disease transmission. Additionally, dedicated food and water bowls are provided. This is because the animal's health and wellness are of prime importance at these facilities, and hence, dedicated and qualified veterinary staff are employed to facilitate the same.
These pet hotels also provide other amenities such as spa & bathing, grooming, and swimming. These services ensure that these pets are well groomed and clean, devoid of ticks and fleas, and their fitness and enthusiasm maintained.
From the moment the pets walk into these hotels to their check-out time, all of their needs and requirements are looked after while further conserving their glee which evidently is anticipated to expand the global pet hotels market size. The 5-star luxury pet hotels feature signature modern styling, unexpected interior appointments, and a fresh, relaxing color palette.
Most key players embarked from its inception to create the ultimate boarding for pets. Their primary goal is to create an environment as close to home as possible, which is luxurious, relaxing, and clean, to keep their anxiety at bay. This is because they are strictly against the methods and concept of kennels or unkempt shelters. These factors are anticipated to broaden the global pet hotel market size.
Explore Major Aspects Governing The Pet Hotels Market
Pet daycare services are growing in popularity amongst pet owners owing to pet humanization, coupled with busy lifestyles and unavoidable work commitments. Moreover, pet owners are willing to spend more on the welfare of pets which has progressively led to the overall expenditure for animal care, including pet sitting, which is expected to surge the demand for pet hotels.
The introduction of advanced, cost-effective, and customized services, including a range of activities from grooming to pet entertainment and other services, has led to the rise in the establishment and adoption of pet hotels.
Furthermore, the option for pet owners/parents to personalize and customize the experience of their pets in these hotels is attracting a large customer base. These factors are estimated to significantly uplift the market growth.
Rapidly growing social media and e-commerce platforms, along with the rise in pet ownership amongst millennials and Generation Zs, is likely to drive the global pet hotels market growth. This is because these youngsters tend to document every moment of their lives, especially moments related to their pets, on social media, which popularizes these hotels.
Discover The Restraints And Future Scopes Of The Pet Hotels Market
Consumers with limited or fixed income are unable to avail and spend on the high costs associated with the facilities offered at these pet hotels. Moreover, grave circumstances, such as a pandemic, may decrease the number of visitors in these hotels due to the fear and panic caused by the risk of viruses spreading amongst the pets and their owners. These factors are expected to put a dent in the market growth.
Celebrities and influencers are heavily promoting the noble deed of rescuing and adopting abandoned and/or homeless animals on social media platforms. This is spreading awareness of the humane effort to offer up homes to these helpless animals.
Hence, animal lovers and pet owners who wish to provide the best of amenities to their beloved pets are likely to consider visiting pet hotels and utilizing their facilities. This is anticipated to open new doors for market players in the pet hotels market share.
Regional Insights
The highest number of pet owners in the USA
North America holds the largest share of the pet hotel market with a remarkable revenue of 58%. This is attributed to the increasing adoption of pets across every third household in this region.
· According to statistics, almost 90.5 Million households have a pet in the USA Additionally, pet ownership has gone from 56% to 68% of all households, over the last 30 years.
· Hence, the boom in pet care spending in these households is expected to drive the demand for pet hotels.
· Some pet owners in the USA, are very particular about representing their lifestyles by spending on comfortable and luxurious products for their pets.
· Social media is increasingly penetrating this region which is expected to spread awareness of the benefits of these hotels. This also gives market players the chance to seek franchise opportunities and market these services.
An increasing number of pet sitters in China
The Asia Pacific is a growing pet hotels market which is driven by the rise in nuclear families and rapid urbanization.
· The diverse countries in this region, such as Australia and Japan, have reached a maturity stage where many companies are offering specific pet services as per the specific requirements of customers, such as private pet suites based on the pet's size and pet sitters in cageless stay-n-play.
· Growing disposable income of the population in emerging markets such as China and India, and an increasing number of pet sitters are offering opportunities for market players in this region.
New Entrants In The Start-up Economy
There are nary a lot of start-up pet hotels, but certain start-ups are offering different services for pet care, grooming, etc. that are then considered by these hotels. Hence, it increases options and opportunities in the pet hotels market share.
· DogVacay – It is an online and mobile open marketplace that enables pet owners to find and book a sitter/pet boarder in their locality. Users can also find related service providers like dog walkers, trainers, daycares, and pet sitters. It guarantees dog insurance, emergency veterinary care, concierge customer service, and photo updates of the dog's vacay. The platform has over 10K trusted and insured dog sitters in USA and Canada.
· Meowtel – It is a cat-sitting site. It is a service marketplace that provides cat services while helping local animal shelters through its exclusive incentive program. Meowtel is a one-stop shop for finding kitty sitters, temporary cat care, foster parents, and even adoptable cats. For sitters, they need to provide 2 recommendations in order to be a sitter for Meowtel.
· Host A Pet – It is an online marketplace for pet boarding services. It follows a process for a household verification system and lists only verified homes on its platform as hosts. Pet owners can select a host from the list of nearby listed homes, and arrange the place and time of delivery with host partners. Also, it provides constant training for dog training and behavior modification. Hosts can offer additional services such as bathing, training, and transportation.
· Dog Friendly – It is an online platform to search for dog-friendly places and events. The user can search for pubs, cafes, accommodations, shops, restaurants, hotels, and more. The also allows the users to list the businesses or events on the platform.
· DogHero – It is a mobile-based platform for booking pet care services. Users can browse through the list of available services including pet boarding, pet sitting, pet walking, etc, and book the one that meets their requirements. Professionals can showcase their services by registering on the platform. The mobile app is available for download from the App Store and Play Store.
· Pawshake – It is an online marketplace that allows pet owners to find, book & hire pet sitters in a local community. It provides dog boarding, walking, and house-sitting services as well. Pet owners can schedule meet & greet sessions before making reservations. Pet sitters can set their own prices on the platform. Their app is available for iOS & Android devices.
Top 5 Key Companies Transforming The Pet Hotels Market Space
The pet hotels market share is likely to expand owing to high precision in establishing and developing technologies for better and advanced facilities, in order to offer improved, premium service to pets. Major players are adopting key strategies such as mergers and acquisitions, as it provides these players to take over small and local players to enhance their hotel accommodations.
· In April 2019, A Place for Rover, Inc. expanded into a new animal-type segment with the launch of cat care services across North America and the United Kingdom.
· In October 2019, PetSmart launched a new doggie day camp format, which is transforming its current off-leash all-day playgroups into a structured play program format called The Ultimate Experience. This new trend of service by major players is making pet owners try these new services for their pets.
· In September 2021, We Love Pets expanded its operations by launching 3 new franchises at the Cambridge, Billericay, and Maidstone branches, ultimately expanding the company's service areas.
TOP MARKET PLAYERS IN THE PET HOTELS MARKET:
· D Pet Hotels – It offers modern 5-star luxury dog boarding, accommodations, and amenities for your most precious companions while you are away at work or play.
· Critterati – Mr. Deepak Chawla along with his better half, Mrs. Jaanwi brought to the forefront an idea to create an epitome of unquestionable affection for these little wonderful creatures residing in their hearts. With utmost dedication and sincerity, they turned their dream into reality with Critterati – India's foremost luxury hotel for canines and felines that reclassifies the very culture of pet keeping in the country.
· Camp Bow Wow – They take every step necessary to ensure your pup is in the best hands. They treat all their Campers as if they were their own. They prioritize individualized attention and tender loving care.
· Posh Pet Hotel – It is committed to delivering the highest level of pet pampering, grooming, and training for both dogs and cats. From socialization to one-on-one interaction, and luxury suites to Zen Wellness, Posh Pet Hotel will surpass your expectations.
· The Barkley – It offers a variety of luxury pet accommodations designed to meet your pet's individual needs. They can tailor your pet's experience to ensure they have a luxurious and relaxing experience.