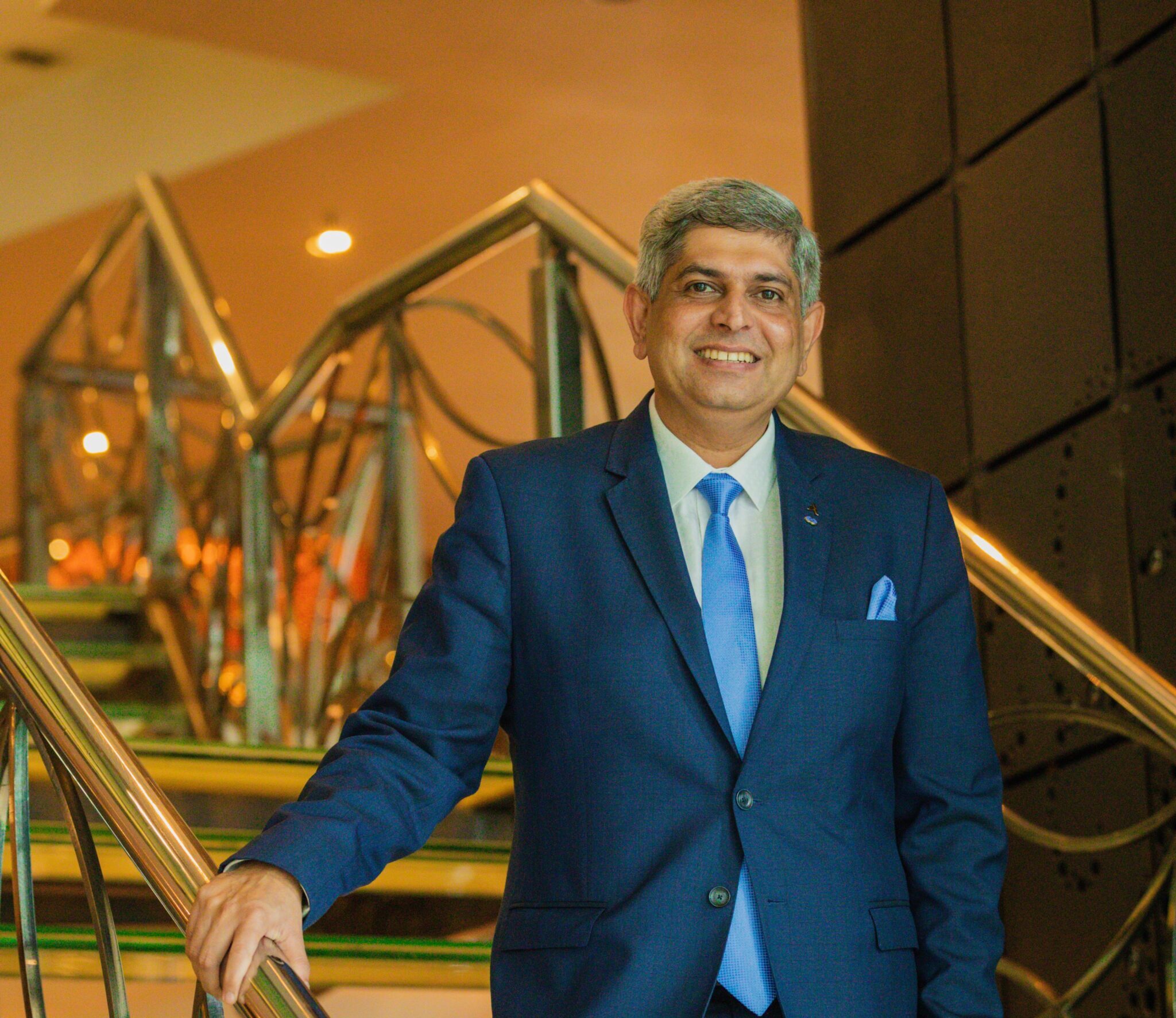 With its strategic location in the heart of the bustling business area in the city, Sofitel Mumbai BKC offers a blend of business and leisure amenities. Manish Dayya, General Manager, Sofitel Mumbai BKC, talks to Disha Shah Ghosh about his vision for the property, and their major revenue generating areas.
1. What is the USP of your hotel?
Sofitel Mumbai BKC, as part of the luxury brand Sofitel Hotels & Resorts under Accor and a flagship hotel in India, introduced Mumbai to a luxurious blend of French elegance and rich Indian tradition 11 years ago, offering all our guests a premium experience that sets us apart. Our prime advantage lies in our exceptional location at the heart of Bandra Kurla Complex, surrounded by consulates, the Bharat Diamond Bourse, major banks and financial institutions, and corporate offices. Additionally, we are conveniently close to the Jio World Garden, Jio Convention Centre, and the most recently launched jewel of BKC, the Nita Mukesh Ambani Cultural Centre.
At Sofitel, we pride ourselves on providing the renowned French Art of Living, combined with unparalleled Magnifique experiences. Our award-winning dining options, such as Jyran, Artisan, Pondichery Café, and Tuskers, showcase the finest culinary delights. To enhance your well-being, we offer the Sofitel Spa with six treatment rooms and state-of-the-art Sofitel Fitness facilities.
What truly sets us apart is our ability to seamlessly blend business and luxury leisure amenities. As a result, our 302 rooms' contemporary elegance combined with fantastic designs creates a symphony of style that helps us cater to the needs of both business travellers and leisure guests—a unique combination that few properties can offer. Our business facilities are top-notch, ensuring a productive environment for meetings and events. All this is available in close proximity to the International and Domestic airports, with easy access to major highways, the Bandra Worli Sea link, and all tourist attractions in North and South Mumbai.
Sofitel Mumbai BKC has always been known for delivering an exquisite experience that epitomizes the perfect harmony between French sophistication and Indian hospitality since its launch in 2012.
2. What are your major revenue streams and how have they grown?
Since Q4 of 2022, we have observed upward trends in the hotel business. Whether it be rooms, our award-winning food and beverage outlets, or our MICE offerings, all have experienced significant growth. At Sofitel Mumbai BKC, our Magnifique Meeting experts are always available to ensure that even the smallest details are tailor-made to perfection, resulting in Magnifique experiences. It is rewarding to see these aspects emerge as major revenue streams that have surpassed past performances.
3. What are your promotional strategies for the F&B segment?
Sofitel Mumbai BKC implements a range of strategic initiatives to promote its Food & Beverage segment. These initiatives include captivating culinary events that showcase the hotel's culinary team's creativity and expertise. The hotel also offers seasonal menus and special offerings to provide guests with fresh and exciting dining experiences. With a strong focus on social media engagement, Sofitel Mumbai BKC shares visually appealing content and hosts interactive contests to foster an engaging online presence. Collaborations with influencers and food critics contribute to expanding the hotel's reach and establishing credibility. Additionally, exclusive dining privileges are extended to loyalty program members, promoting guest loyalty and appreciation. The hotel also forms strategic partnerships with local suppliers and artisans to highlight regional culinary specialties, further enriching the overall dining experience.
Recently, Jyran – serving Northwest Frontier province cuisine, is now open for lunch as well. Tuskers, a vegetarian dining bar, offers a mix of traditional Rajasthani and Gujarati delicacies during lunch hours, promoting sumptuous thalis. Both outlets have new chefs on board, enhancing the dining experiences. Artisan Café now offers a new patisserie, featuring French-style bakeries, cakes, and hampers, along with the finest coffees. In the evening, it transforms into a vibrant spot with music, providing a wonderful place to relax with a drink of your choice.
Regarding our MICE (Meetings, Incentives, Conferences, and Exhibitions) strategy, Hriday reflects the grandeur of Sofitel Mumbai BKC and is a part of our Inspired Meetings offerings. Sofitel Mumbai BKC with 30,000 sq. ft. of meetings and event space in the heart of Mumbai serves as a great venue for exchanging wows and celebrating special occasions in style. The Marquee, a new pillar-less venue spanning 8000 sq. ft., provides a seamless setting for banquets, corporate events, and product launches during the monsoon season.
I would also like to mention our dynamic loyalty programme, Accor Live Limitless, which is a core part of our strategy to drive Food & Beverage diners. This programme not only allows our loyal customers to earn reward and status points but also fosters loyalty towards the brand. Members can earn and redeem points for Food & Beverage usage at the hotel, which has gained significant traction in the Mumbai market. And the dining loyalty program, Accor Plus, which has a substantial membership base in this beautiful city of Mumbai, complements it.
5. What are the major ancillary revenue streams that you witnessed is significantly contributing to your balance sheet?
Sofitel Spa, managed by the ambassadors of Sofitel Mumbai BKC, combines exceptional decor and an array of luxurious spa treatments. The interiors of the spa are bright and pleasant, featuring controlled lighting and a captivating color scheme predominantly showcasing gold. The choice of gold resonates with the shared passion for this color among the French and Indians. Notably, the spa's centrepiece showcases golden drops of luxury, creating a mesmerizing depiction of exotic golden rainfall. The spa boasts six treatment rooms, each offering signature treatments that are highly sought after. This combination of exquisite decor and top-notch treatments positions the spa as a significant ancillary revenue stream for us.
6. What is your vision for the future of the hotel?
AI am thrilled about the opportunities that lie ahead in the hospitality industry this year, as we have the chance to set ourselves apart from the competition by introducing innovative features that cater to our guests' evolving needs. At Sofitel Mumbai BKC, we believe in the timeless allure of French luxury, seamlessly blending style, sophistication, and chic elegance. Mumbai, as a destination, perfectly complements our vision, offering experiential stays even for business travellers. Our primary goal is to enhance the guest experience by leveraging technology to deliver personalized services rooted in our Cousu main service culture. We go the extra mile to make our guests feel not just at home but truly special, genuinely caring about their happiness.
Embracing life passionately, we find joy in every moment and offer authentic culinary experiences, wellness programs, and a bespoke lifestyle that embodies the essence of Sofitel.
In 2023, sustainability is a key focus for us. We understand the importance of minimizing our carbon footprint and preserving the environment for future generations. By continuously evolving and implementing sustainable practices, such as reducing food waste, utilizing eco-friendly products, and incorporating energy-efficient systems, we strive to make a positive impact.
Furthermore, we have plans to expand our brand presence and attract new clientele who seek the blend of modern luxury, the French art de vivre, and the essence of Mumbai. Through strategic partnerships, industry participation, and exploring new marketing channels, we aim to increase brand awareness and drive bookings.
I am actively collaborating with our team of ambassadors to share our brand passions and deliver exceptional experiences to our valued guests. Overall, I am excited about the potential that 2023 holds for our hotel and the industry as a whole.
7. What are your biggest challenges? How do you plan to overcome them?
Joining Sofitel Mumbai BKC is truly the realisation of a dream in the vibrant City of Dreams. As I embark on this new chapter, marking a decade with Accor, it feels incredibly rewarding, as I have mentioned in many of my past interactions. However, it also comes with great responsibility, as Sofitel Mumbai BKC represents the prestigious luxury brand Sofitel Hotels & Resorts of Accor and presently stands as its sole representative in India. While I embrace this role, I see it as an exciting journey rather than a challenge, especially considering the hotel's resilient rebound and the positive trends it exhibits. My primary focus will be to harness the growing demand, elevate our Reputation Performance Scores, and ensure that our dedicated team at Sofitel Mumbai remains deeply engaged.