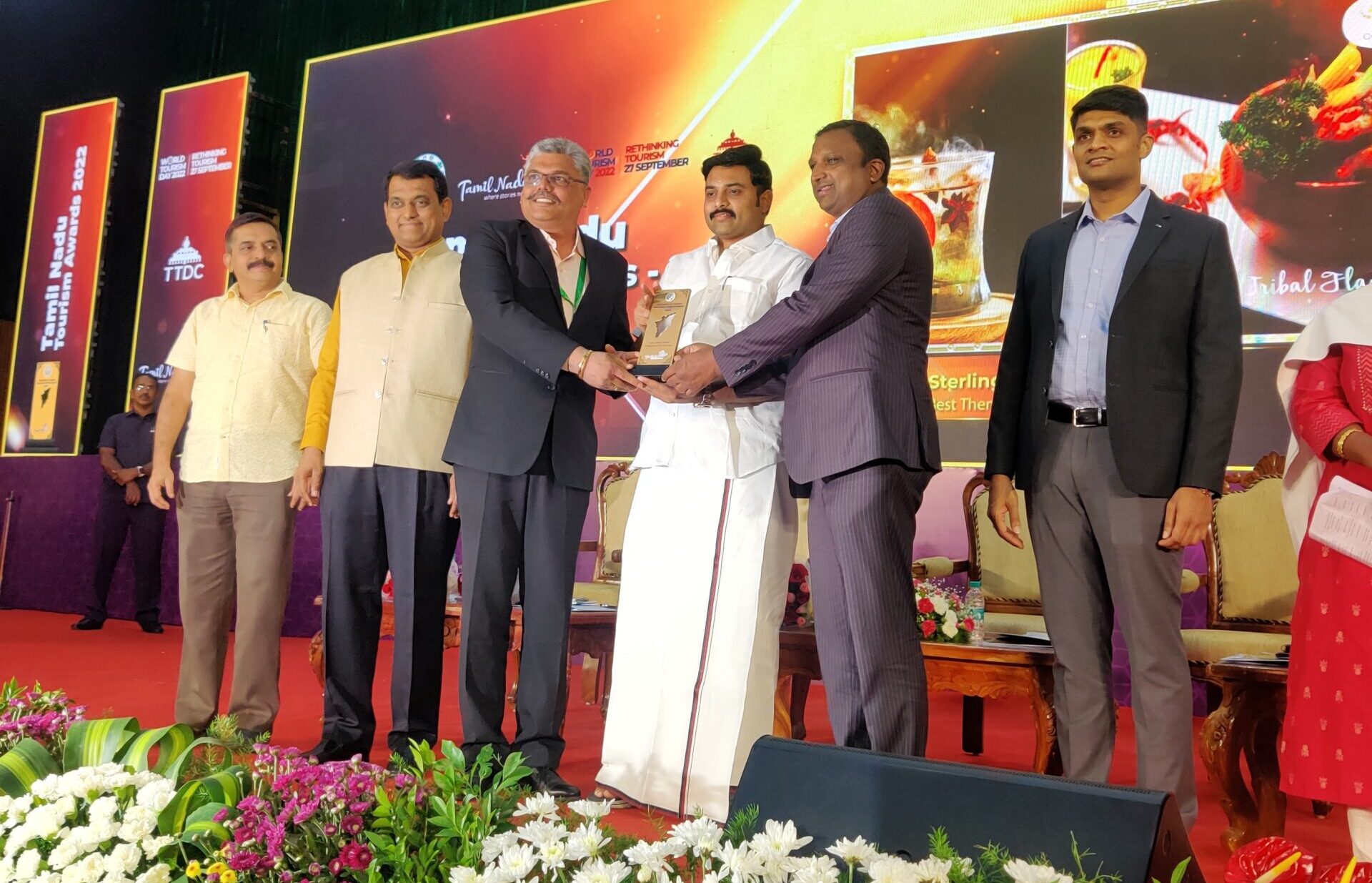 One of the leading leisure hospitality brands in India, Sterling Holiday Resorts bagged a prestigious award at the Tamil Nadu Tourism Awards conducted in Chennai. One of Sterling's resort at Ooty, Sterling Ooty Elk Hill was the sole winner to be awarded the 'Best Themed Resort' under the Best Hotels in Tamil Nadu Category. The award was presented by Dr. M. Mathiventhan, Hon'ble Minister for Tourism, Govt. of Tamil Nadu.
On receiving the award, Vikram Lalvani, MD and CEO of Sterling Holiday Resorts Ltd said, "We are immensely delighted about the recognition at the Tamil Nadu Tourism Awards '22. Sterling Ooty Elk Hill has often been appreciated by our guests on various platforms, but this award and recognition by Tamil Nadu Tourism is a cherry on the cake for us. Sterling believes in creating experiential holidays by blending the distinctive attributes of the destination into immersive and authentic Discoveries & Experiences. This award encourages us to continue to deliver on fantastic holiday experiences across our 35 plus resorts around the country."
While the queen of hill stations is popular for its weather and scenic vistas, the destination is unmatched in its heritage and unique history. The Nilgiri Mountain Railways (NMR) – a UNESCO Heritage site, is a living embodiment of Ooty's legacy with travel.
Sterling has celebrated this heritage by featuring it at Sterling Ooty Elk Hill. The NMR – Toy Train – a 20ft x 6ft built-to-scale working model placed in the guest lobby area of the resort is a miniature version of this historic mountain railways system that started in Ooty in the year 1899. This set comprises of a steam engine and four carriages, with the engine making the authentic chuffing sounds and the whistle. The model depicts two stations Runnymeade and Kateri, two stone cut bridges and tunnels. While the original Toy Train is built on 1000 mm gauge railway this 3D automated miniature model of the train model is designed on 00-1:76 gauge or HO gauge – 1:87-gauge tracks.
The NMR is the only functioning passenger train system that works on the Rack & Pinion Model operating on the steepest railway track in Asia. A vivid design of this model is also displayed at the resort with a Rack & Pinion Infographic at the resort.
As a part of the award ceremony, various tourism stakeholders were recognised for their contribution towards the development of Tourism in Tamil Nadu. The awardees included operators, airlines, accommodation units, restaurants, guides and other tourism enterprises contributing to the promotion of tourism in the state.