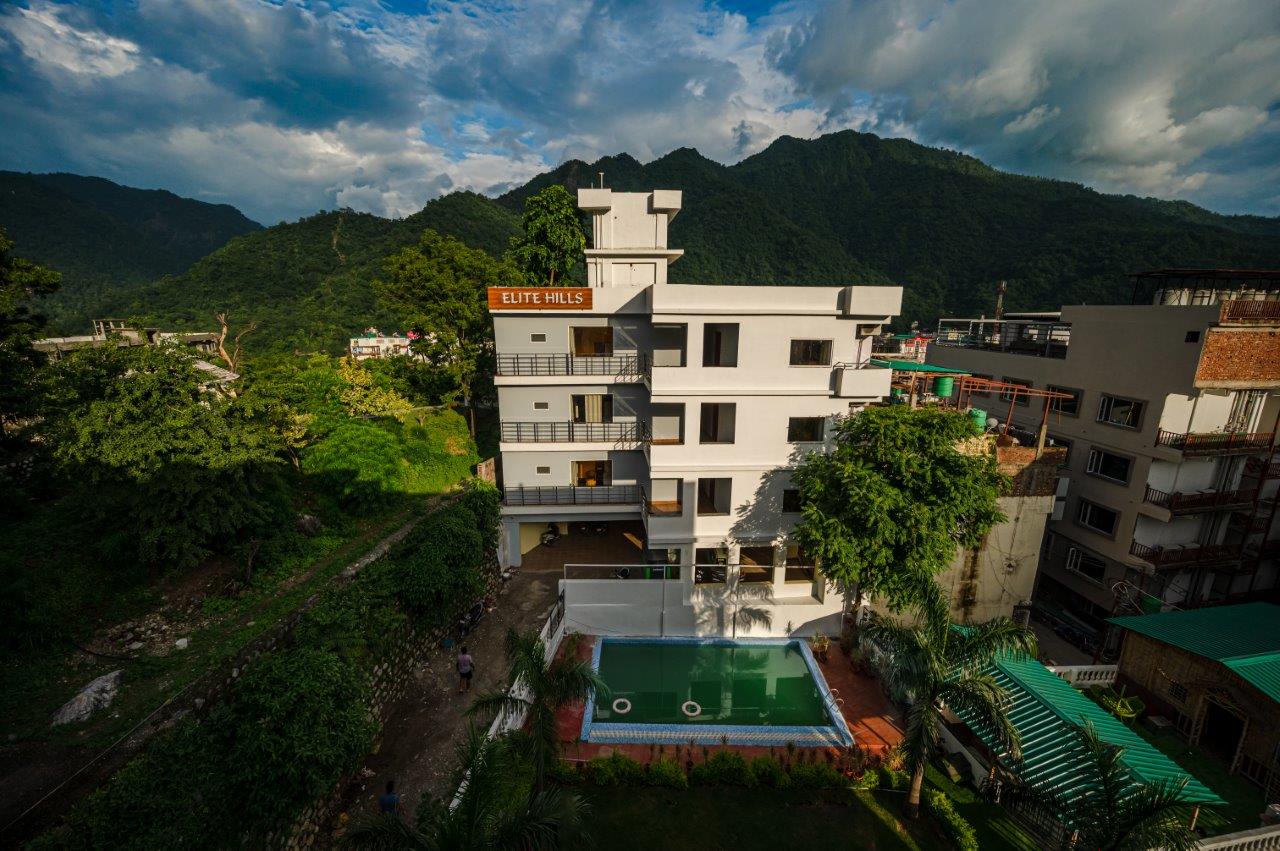 Stotrak Hospitality, a diverse hotel management company has signed with Kool-stays to operate their Hotel Rishikesh Grand at Rishikesh, Uttarakhand. Strategically located in the Tapovan Area, near the river Ganga, Hotel Rishikesh Grand is a great pick for guests looking for a scenic and serene experience.
Strotak already operates hotels in Deharadun (Sukoon, & Spice Hotel), Mussoorie (The Kenilworth), Ranthambore (Earth Resort & Spa), Jaisalmer (Sam Dunes) & Nahan.
Manish Goyal, founder Strotak Hospitality said "Hotel Rishikesh Grand is the 7th Hotel in our portfolio and allows us to offer a completely new travel experience for our guests. This nature-enriched stay option is the best-landscaped hotel in the town offering a beautiful, serene, and scenic view to guests".
Just 30 mins from the airport Rishikesh Grand offers well-appointed spacious rooms and has two wings, Pool View with 16 rooms & scenic Elite Hills view with 20 rooms. It with a pool and hill view, Rishikesh Grand's best curated, indulging, and exciting service experience for its guests is of the highest standards.
Most Hotel Rooms in both the wings offer a Balcony/Private Sit with an amazing view of the hill and the inner lush green pool view and serene hill view and sunset experiences.
The Hotel also offers a banquet hall with a capacity of 60-80 guests, a yoga deck with an in-house yoga teacher, and a beautiful outdoor pool for a completely rejuvenating experience during the stay make it the most preferred & highly recommended choice for the guests. Additionally, the delicious & specialized local and sundry Indian food options at the hotel's multi-cuisine restaurant will sway your taste buds towards a heavenly feeling.
Rishikesh Grand's strategic location makes it a great option for the traveler. For international travelers, the hotel is located at a distance of 6 Hours from Indira Gandhi International Airport connected with excellent and world-class road infrastructure.
The concierge service at Rishikesh Grand ensure that guests enjoy hassle-free experiences like river rafting, kayaking, rappelling, canoeing, mountain biking, quad biking, rock climbing, archery, bungee jumping, trekking, exploring the Neer Gaddu waterfalls and Patna waterfalls, the guided Ganga Aarti at the Ghat, and much more.
"The best part is that all the sites are conveniently located near the hotel" further added Mr. Goyal.
N Gupta, Co-Founder, Kool-Stays concluded "We are excited to join hands with an experienced Hospitality professional to manage our first venture in the Dev Bhoomi Uttarakhand. Rishikesh Grand is the first hotel under the Kool-Stays portfolio and we are looking forward to see this come out as an experiences driven hotel in the Yoga Capital of the World.
Kool-Stays, is the creation of four childhood friends, who come from complete different professions, and share a common interest because of which they got into the hospitality sector by acquiring Hotel Rishikesh Grand.