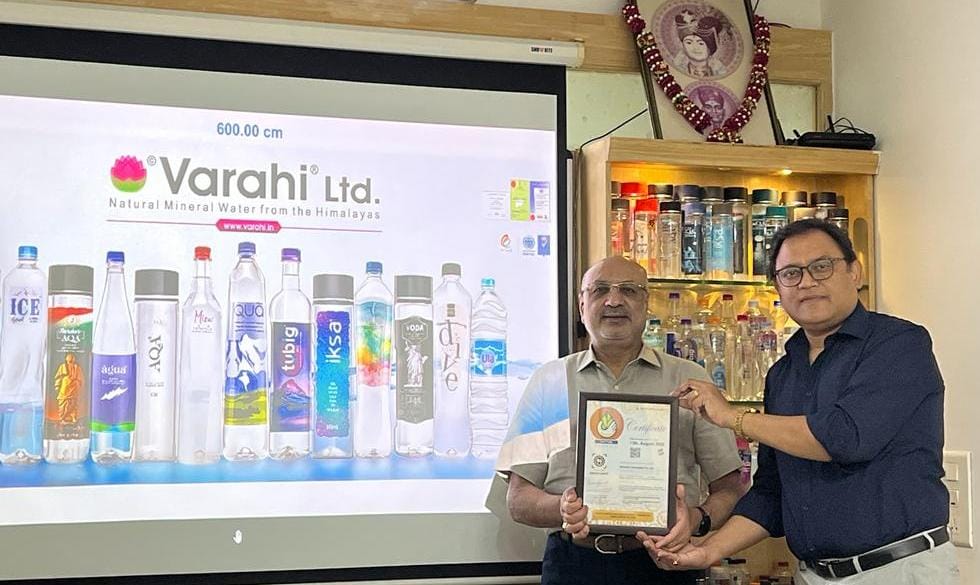 Sattvik, the World's first vegetarian food and lifestyle standard development organisation has awarded Sattvik verified certificate to VARAHI Ltd a leading beverage company of India, a pioneer in natural mineral water from the Himalayas, which is based on the tenet that "a glass of pure water from nature is the elixir of life for our body and the driving force of our soul". VARAHI Ltd received the Sattvik Verified Certificate on August 17th, 2022.
VARAHI Ltd. is the manufacturer and bottlers of premium most natural mineral water brands. VARAHI Ltd. has been part of the Indian Sattvic Culture by bringing the most premium natural water which is pure, wholesome and has all the goodness of nature, unaltered. Every drop of water that VARAHI Ltd. produces at their state-of-the-art plant uses the latest technology. VARAHI Ltd. is associated with leading manufacturers who settle for nothing short of the best with uncompromising standards of quality, especially in the FMCG, F & B, and Hospitality sectors including Vivanta, Sky Chef, Tajsata, WHSmith, Hyatt, Chefair flight catering, Red Ginger Hospitality, Jaypee Hotel & Resorts, Radisson, Sky Gourmet, Samrat, PVR, Pind Balluchi, CCD, Future Consumer, Ferns n petals, Air India, Bercos, 24 Seven, and Narang Group.
This event was marked in the presence of Shri Vagish Pathak (Chairman, Sattvik Council of India) while focusing on reducing the "carbon footprint" of products. There is a significant emphasis on the environmental impact of packaging, which has prompted numerous measures by VARAHI Ltd. to lower its carbon footprint and bolster its "Vegetarian Friendly Environment" reputation.
"It's a pleasure to be associated with a brand like VARAHI Ltd., where the objective is to increase healthy water consumption and set a benchmark by terminating the processes harming nature. Sattvik Verification is important for the water and its packaging that is being produced in compliance with Sattvik Parameters to gain trust and confidence in the Vegetarian Oriented Market. Our vision is to cover all the upcoming organizations focusing on vegetarian-friendly food and lifestyle in two years so that Sattvik Certified food and lifestyle can reach each and every location in India," said Abhishek Biswas, Founder at Sattvik Council of India.