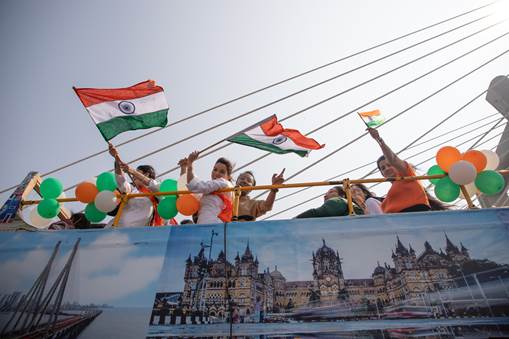 On this 74th Republic Day, patrons witnessed the grandeur of the Taj Lands End parade that depicted the essence of celebration with community. To mark the occasion, Vice Admiral Krishna Swaminathan was invited to take the salute and encourage the proceedings.
As per tradition, the National Flag was unfurled followed by the first time ever Taj Lands End Republic Day parade on 26th January 2023. Vice Admiral Krishna Swaminathan flagged off the parade at 10 am from the hotel, which commenced with a cultural performance by the Bandra school children
The contingent comprised of a convoy of 15 vintage cars and 2 open rooftop buses. The caravan was seen with flying Indian flags starting from the Taj Lands End through the Bandra streets over the sea link and back.
This cultural pageant depicted the symbol of a diverse yet united India as the hotel staff dressed up in the traditional attire from each state of our country to celebrate the patriotic festivity.
Comments from Mr Somnath Mukherjee, Senior Vice President (West), "Patriotism strengthens the sense of duty among citizens, we at Taj Lands End were very excited to celebrate the 74th Republic Day with our community. It was heartening to seeing the enthusiasm amongst the staff, guests and children from 24 different schools of Bandra, towards their participation in this parade. It was an honor to have Vice Admiral Krishna Swaminathan felicitate this celebration as our chef guest and inspire all of us with the spirit of unity and prosperous future."