Rajan Sethi, Founder & Director, Bright Hospitality Pvt. Ltd. is a proud Indian restaurateur who spent his college days in Sydney. He identified the current gap of connecting food to the local produce in the culinary world. Sethi who has immense belief in the country's culture thinks that Indian cuisine can give a healthy competition to any of the International cuisines, provided it is promoted correctly. In its portfolio, the brand boasts of restaurants like The G.T. Road, Ikk Panjab, OMO, and AM.PM., which promotes Indian culture and its cuisines. His concerted effort for elevating the position of Indian cuisine, across the world is aimed at ensuring continuation of the country's culinary legacy. Asmita Mukherjee spoke with Sethi to know more about his plans for the brand.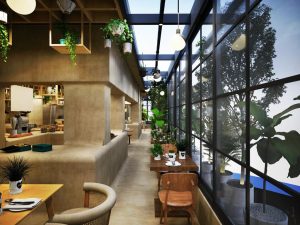 Every brand of Bright Hospitality offers different vibes and different cuisines. What was the idea behind each of your restaurant?
Fifteen years ago, we penned an audacious vision –'To herald a revolution in the hospitality industry'. Today we have 4 brands and each one of them is inspired by the history, geography and cultural codes of India.
The G.T. Road is a 2600 kms food journey that begins in Kabul, ends in Chittagong and we serve food from 40 odd towns it runs through. It's a royal buffet where one can eat like an Emperor but pay like a Commoner. The entire eatery is laced with artefacts such as weapons, coins, and photographs which transport the guest to an era gone by.
Ikk Panjab pays homage to the 'before-partition' Punjab.  My ancestors were farmers and they lived in Peshawar before politics and greed broke this glorious state into two bitter halves.  We curated recipes from East and West Punjab and serve the food in the same manner in which it was served almost 200 years ago with a big heart and a lot of love.
OMO is a 100% vegetarian restaurant which procures fresh organic produce from farms across India.
AM.PM. is a youth hangout that morphs by geography and time. It's a café in the morning and becomes a bar post sun-down.
We don't see ourselves as a food and beverages company. We see ourselves as the 'custodians of the heritage, culture, traditions of India' and we express it through the medium of food and beverages.  It is a big responsibility that fuels our passion to create masterpieces which enrich the soul.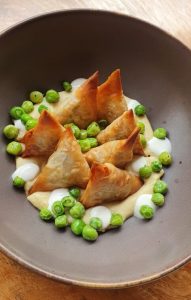 Since you operate both dine in and cloud kitchen models, according to you what are the pros of each model?
As the pandemic ravaged the world, the hospitality industry was impacted the most.  The adage 'necessity is the mother of invention' was clearly evident in the way cloud-kitchens flourished, neighbourhood aunties doled out home-made foods, FMCG majors rolled out ready-to-eat offerings and consumers craved to taste outside the home.  As the spectre of virus receded, restaurants opened their shutters.
A cloud kitchen can deliver food at your doorstep but it only delivers on the aroma and taste dimension of eating.  Hospitality and F&B are experiential hotspots.  The magic lies in the experience and that's the big differentiator. I hope this is the end of the pandemic and sincerely pray that there F&B industry thrives so that our guests and patrons can experience the best eating joints in the world.
What are your expansion plans?
The G.T.Road and Ikk Panjab are two brands for which we get the maximum queries from international parties as it caters to a huge diaspora.  Having visited most of the Indian subcontinent restaurants across the world, I believe that The G.T.Road and Ikk Panjab are leagues ahead in product, concept and execution.  The UK, Canada and USA are three big opportunity zones for us and we're in the process of tying up with partners whose dreams are aligned with our ambitions.
We have a dozen fresh concepts on the table which we are very excited about. The next 100 days are very important to us as a few new spaces will be up and running.  Our innovation pipeline is packed until 2026 and we're sure that Indian cuisine will give a lot of the international cuisines a run for their money.  We will be announcing our international plans soon.
 Kindly elaborate on your growth plans.
A restaurant is like a baby which needs full time parenting. Handing the reins of the baby to someone would be emotionally gut-wrenching.  We are very clear that the first three outlets of our brand have to be completely owned, invested and operated by BHPL, with no external partners or investors. That gives us freedom to take fearless decisions without interference or financial burden.  We will look for VCs or financial partners who want to invest and grow with us.
asmita.mukherjee@saffronsynergies.in