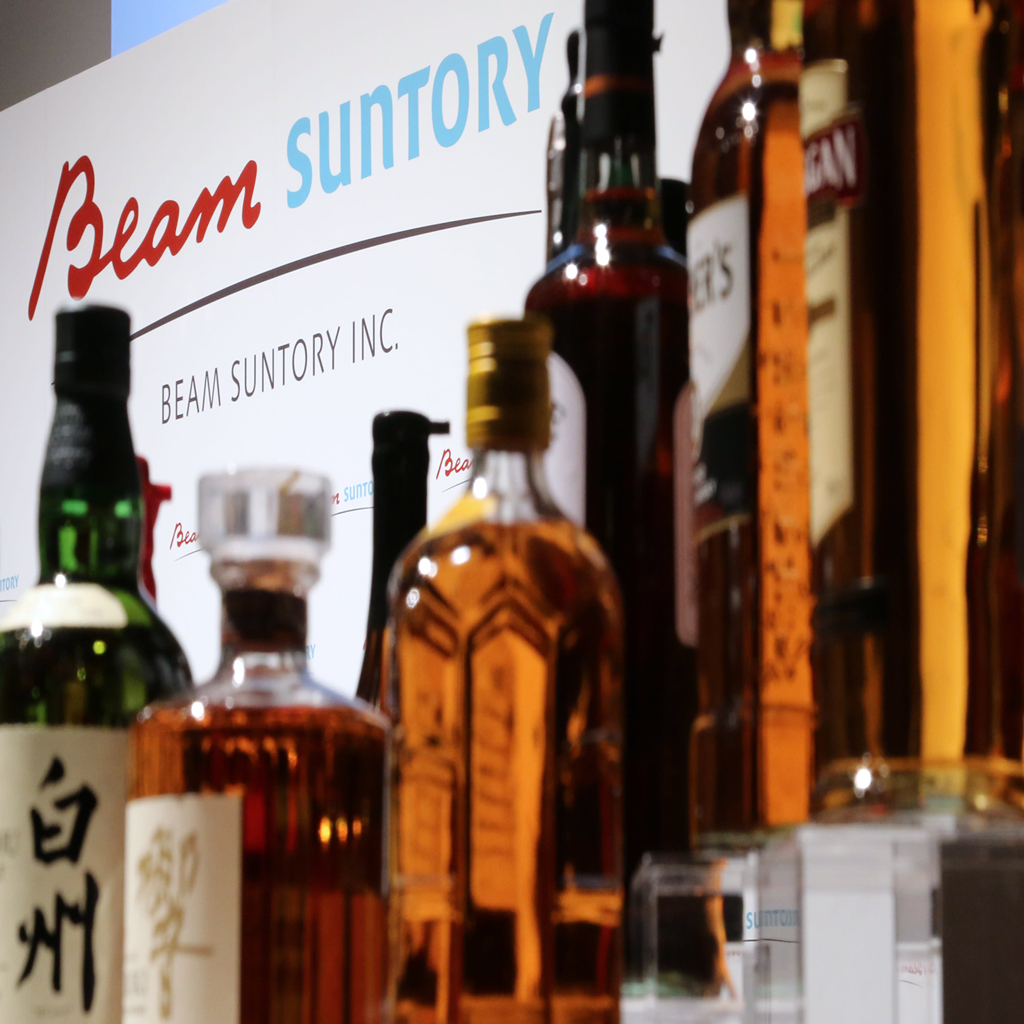 Beam Suntory, a world leader in premium spirits, reported results for the first half of 2021, reflecting a stronger-than-expected rebound in key markets and excellent performance for premium brands. Net sales increased 12% for the maker of Jim Beam and Maker's Mark bourbon, Courvoisier cognac, and Hibiki Japanese whisky, as the company benefited from double-digit sales gains in markets including the United States, Canada, EMEA, Oceania, India, China, Emerging Asia and Global Travel Retail. First-half 2021 sales were 8% above the first half of 2019, the comparable pre-pandemic period.
"I'm very proud of the work our teams have done to secure our supply chain, protect our people, meet consumer needs, and anticipate long-term trends throughout the pandemic, and I believe our results reflect that," said Beam Suntory President & CEO Albert Baladi. "With a focus on preimmunizing our business, accelerating key growth platforms, becoming a truly purpose-driven company and supporting our people, we have been able to meet consumers where they are, and do good for all of our stakeholders."
Results by brand demonstrate the success of Beam Suntory's premiumization strategies, as Maker's Mark and Basil Hayden bourbon, Courvoisier cognac, Hibiki Japanese whisky, Laphroaig and Bowmore Scotch whisky, Roku gin, and Hornitos tequila grew at double-digit rates for the first half. Sales of On the Rocks premium cocktails increased four-fold. Beam Suntory fueled double-digit growth of ready-to-drink beverages through the launch of innovative new products, and the company announced a US-based partnership with Boston Beer Co. in July to further build strength in this important market segment. Investments to expand eCommerce capabilities further accelerated results.
By region:
North America sales grew 12%, powered by a faster-than-anticipated on-premise recovery and double-digit sales growth in the United States.
International region sales grew 32%, reflecting robust double-digit growth in markets including Germany, UK, Spain, Russia, Australia, India and Global Travel Retail.
Sales in Asia increased 6%, with double-digit growth in China and Emerging Asia, partly offset by relatively level sales in Japan, which represents approximately one-third of company revenues, and where pandemic-related restrictions adversely impacted on-premise sales.
In April, Beam Suntory launched Proof Positive, the company's first enterprise-wide sustainability strategy, representing more than USD1 billion in investments to positively impact the environment, consumers and communities, including ambitions to:
Reduce greenhouse gas emissions by 50%, reduce water use per unit of production by 50%, use 100% recyclable packaging, and plant more trees than used in barrel production by 2030, and go beyond net-zero carbon emissions, work only with suppliers using sustainable practices, and replenish more water than used in direct operations by 2040
Invest USD500 million to promote responsible decisions and positively impact behavior relating to alcohol, enable expanded choices with low- and no-ABV products, and provide nutrition information on 100% of the company's products by 2030.
Contribute 1 million cumulative volunteer hours, foster greater diversity, equity and inclusion, build stronger communities, promote social justice and more.
Beam Suntory has further been recognized as a "Great Place to Work" in the U.S., Singapore, Canada, Korea, China, Mexico, India, Spain and Australia in the current cycle. The company has also been honored as a "Best Place to Work" for LGBTQ Equality and a "Great Place to Work" for women in China.
"The strategic investments we're making, and the powerful commitment of our people, are helping us build broad-based momentum, and I'm confident we will remain at the forefront of the recovery in our markets," Baladi said. "Even with the challenges and uncertainty the pandemic still presents, we will continue to be guided by our proven strategy and values-based approach as we pursue our ambitious growth goals and sustainability targets."