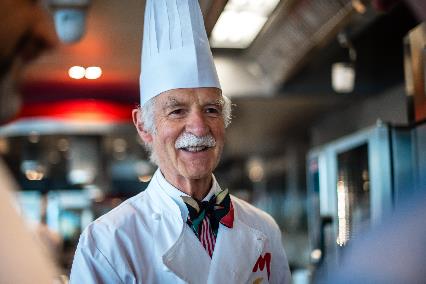 Culinary Arts Academy Switzerland celebrates legendary Swiss Chef Anton Mosimann, OBE, who was honored with the 2021 Swiss Culinary Merit of Honor on June 21. The prestigious award was launched in 2020 and celebrates Swiss gastronomical excellence while honoring Switzerland's leading professional chefs and their contributions to Switzerland's culinary heritage.
Legendary Swiss Chef Anton Mosimann, OBEChef Mosimann accepted the award at Hotel Bellevue Palace in Bern. In attendance was President of the Swiss Confederation, Guy Parmelin, Culinary Arts Academy Switzerland representatives and other culinary influencers and rising stars.
Chef Mosimann is one of Switzerland's leading culinary lights. Born in 1947 to a family of Swiss restaurateurs, he began apprenticing at 15 and by 25 was one of the youngest chefs to receive the Chef de Cuisine diploma. He continues to give back to young aspiring chefs as a frequent lecturer at the Culinary Arts Academy in Le Bouveret where he also houses his Mosimann Collection of memorabilia, historic cookbooks, menus from around the world, and recipes.
Chef Mosimann's career took off in London when he became the Maître Chef des Cuisines at the Dorchester Hotel when he was only 28 and where he was awarded two Michelin stars. He went on to found Mosimann's Club, one of the most prestigious dining clubs in the world as well as providing catering services to HRH The Prince of Wales through his catering company, Mosimann's Party Service.
"We need good people; we need educated people, and I think the Swiss Education Group is just perfect to give that experience to young people. With all of what I have seen in the last couple of years, I'm very impressed and I wish these students all the very best for the happy and successful future career," said Chef Mosimann.
"Our faculty and students celebrate this honor with Chef Mosimann," said Tanja Florenthal, Dean of the Culinary Arts Academy Switzerland. "His culinary achievements and passion for Swiss gastronomy inspire us to pursue excellence every day, and we deeply value his ongoing collaboration with our educators and mentorship of our students."
Despite his success and fame, at 74 years of age, Anton Mosimann has remained humble and approachable while never forgetting his roots. Through his relationship with the Culinary Arts Academy Switzerland, Chef Mosimann is able to mentor, influence and inspire up-and-coming culinary students from over 64 countries.
In addition to the Culinary Merit of Honor, 2021 Culinary Merit awards were presented to Chefs Rebecca Clopath, Lorenzo Albrici, Pierre-André Ayer and Andreas Caminada.
Australian hotelier Peter Stafford once said of Mosimann: "Working with Anton has given me more pleasure and satisfaction than any other collaboration in my entire career in the hospitality industry. Anton is sovereign, amiable, extremely firm and absolutely fair. I consider him not only as one of the best chefs in the world, but also as an incredible organizer and great motivator. Any hotelier would be grateful to receive so much loyalty from their employees, as it was the case with Anton Mosimann."