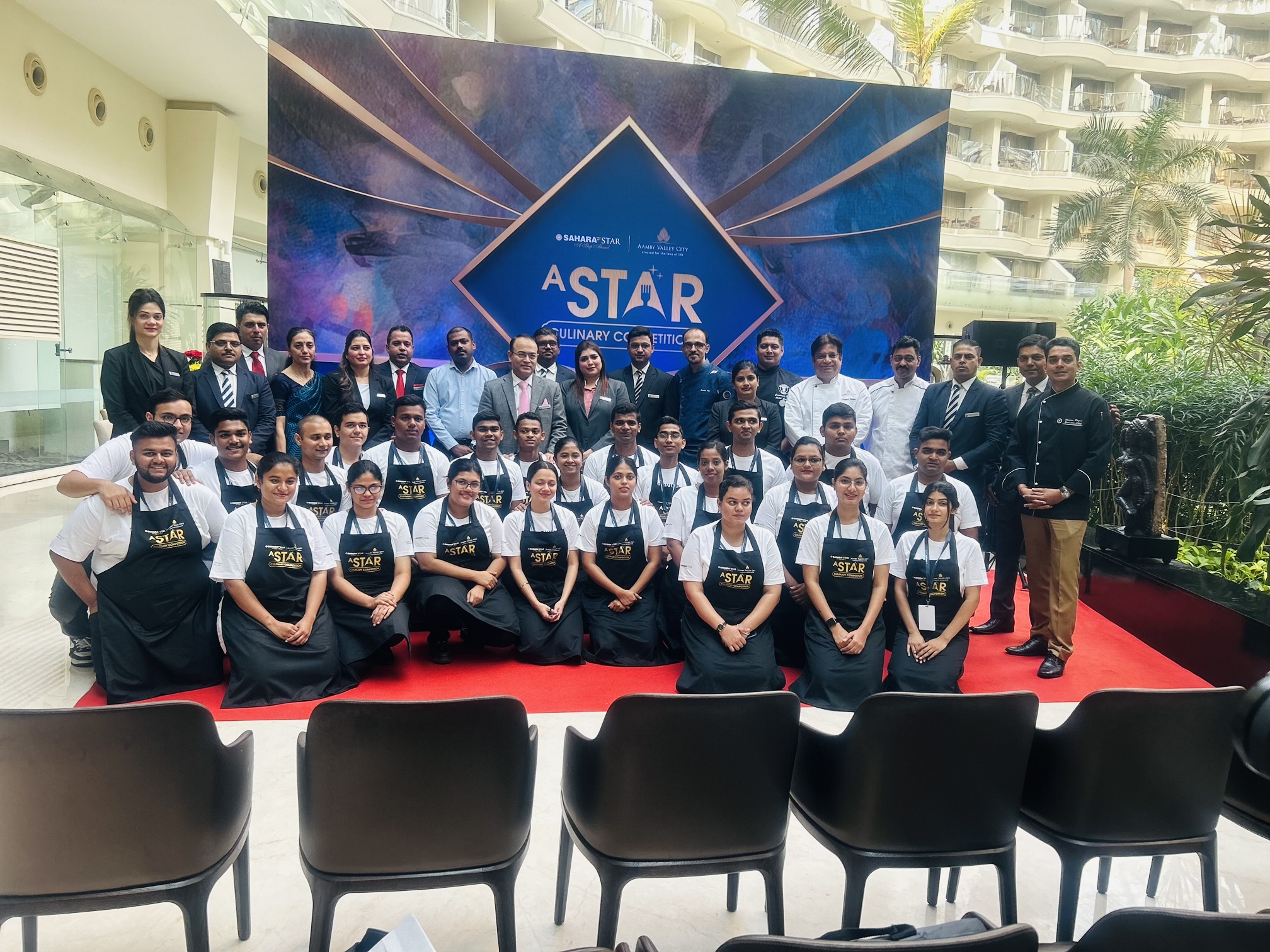 Sahara Star and Aamby Valley City hosted the first edition of its culinary competition, A Star Culinary Competition 2023, on January 4th and 5th, with the semi-finale held at Sheila Raheja Institute of Hotel Management followed by Finale at Hotel Sahara Star, Mumbai. 
The theme of the competition was "Art on the Plate" and as the name suggests the young culinary artists donned their Chef Caps to exhibit their culinary skills and demonstrated their culinary prowess at their best. The jury panel consisted of prominent figures from the F&B industry. 
The "A Star Culinary Competition" was sponsored by Virchand Khimji, Harbour Exports and Anusuya Fresh. The prime objective of the competition was to offer a professional platform to students where they can display their individual skills, creative talent and get an opportunity to learn and share experiences in a competitive environment. Food items displayed were a visual treat and were presented in an artistic and aesthetic style. Dishes were judged based on creativity, hygiene, taste, texture, and appearance by esteemed judges Chef Sudhir Pai (Chef, Food & Beverage Consultant), Chef Rohit Gujral (Chef, a food stylist, and Culinary Consultant), Chef Deepak Bhatia (Director of Food & Beverage, Aamby Valley City) & Chef Ranjan Rajani (Executive Chef – Hotel Sahara Star)
Judges interacted with budding chefs to examine recipe ingredients, nutritional value, and the historical significance of the dishes they prepared.
"This competition is the first of its kind in this country hosted by any hotel for the hotel management students. Today's customers want the creativity and presentation that can be found in these young practitioners, who always want to do something new, to create something that looks beautiful on the plate. Keeping this in mind, we decided to organize this competition where the students from the colleges all over India can participate and show their culinary talent. We want to promote the talent at the very nascent stage and we will come again next year to tap this talent said Mr. Romie Dutt, Executive Director, Hotel Sahara Star, and Aamby Valley City.
"Having won the 'A Star Culinary Competition' for the year 2023, I feel very proud and ecstatic to be here. It was one of the best opportunities for me to showcase my talent on the plate. The unique theme of "Art on the plate" was something that attracted me from the very beginning and I made sure to do my best to win. It was an honor and amazing experience for me as well, quipped Harshal, Karkhanis Winner, 'A Star Culinary Competition'