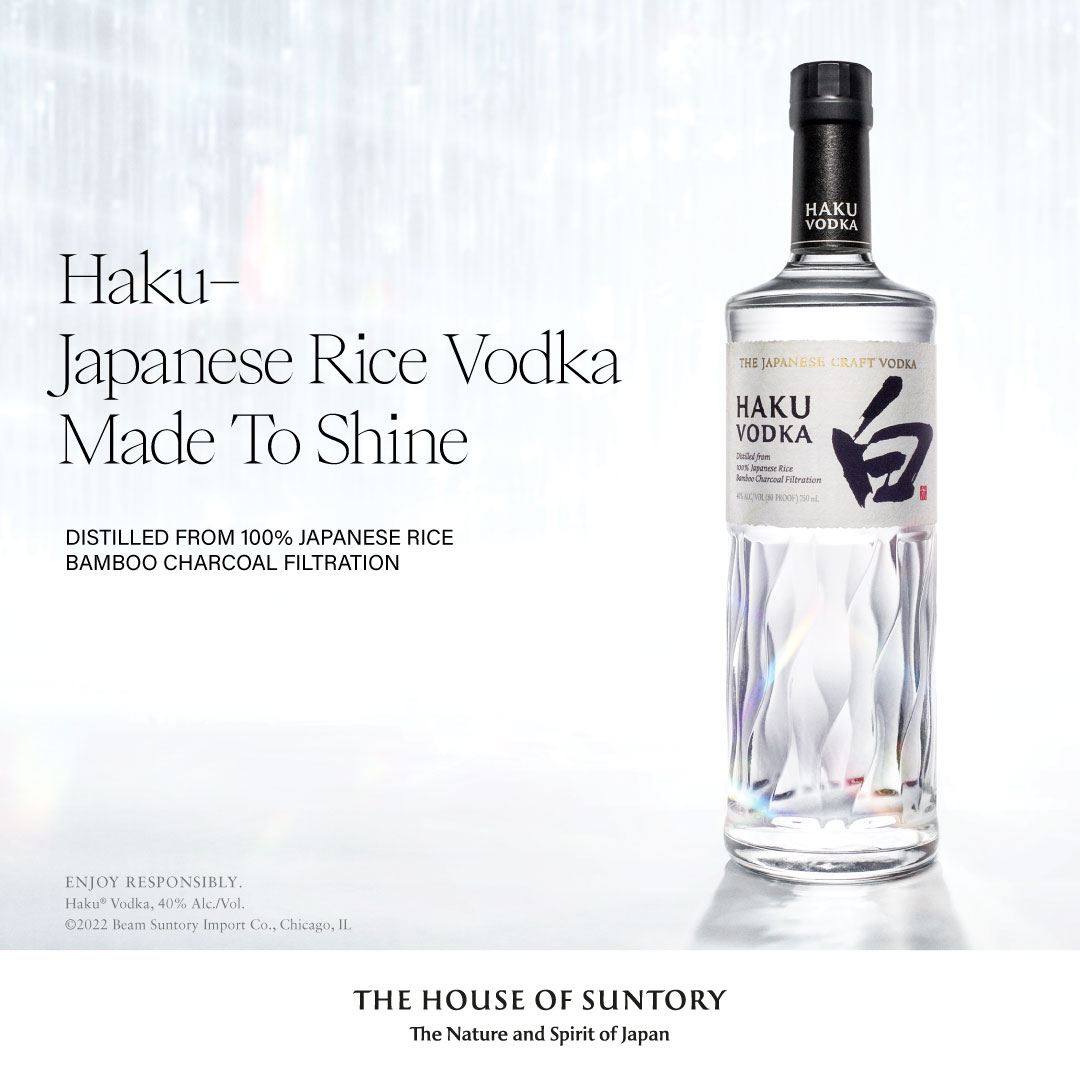 After the successful launch of The House of Suntory portfolio in December 2019, Beam Suntory has introduced Japanese craft vodka to India.
Beam Suntory, the world leader in premium spirits, announced the launch of Haku® Vodka, the newest release from the iconic House of Suntory, the Founding House of Japanese Whiskey, in India. Created from Japanese ingredients by master artisans, Haku® Vodka represents the nature and spirit of Japan. The premium spirit embodies Suntory founder Shinjiro Torii's philosophy of Monozukuri craftsmanship: a relentless pursuit of perfection, meticulous attention to detail and commitment to quality.
"Vodka continues to gain prominence as a sought-after spirit amongst Indian consumers due to its versatility. Delivering a distinctive experience and establishing a unique presence in the vodka market, we bring yet another addition from our esteemed House of Suntory portfolio in India with the launch of Haku® Vodka," said Neeraj Kumar, Managing Director, Beam Suntory India. He further added, "Haku® Vodka embodies the House of Suntory's unwavering commitment to crafting spirits of unrivaled quality and attention to detail, which is the essence of our guiding principle, Monozukuri. This exceptional offering is poised to cater to the evolving tastes of Indian consumers, delivering a truly premium experience setting an unprecedented benchmark in the vodka category."
Haku, meaning 'white and brilliant' in Japanese, pays tribute to the main ingredient "Hakumai," a pure, white Japanese rice serving as the quintessential symbol of Japan that is meticulously milled and polished, and the craft of mastering a "junpaku," a clear, clean and luminous vodka, carefully filtrated through bamboo charcoal that adds a sophisticated sweetness and complexity to the vodka's natural flavor. The design of Haku® Vodka expertly balances the traditional Japanese aesthetic with a modern sensibility, resulting in a minimalist and artisanal product that truly celebrates the artistry of Japanese craft. With a steadfast commitment to premiumization, the introduction of Haku® Vodka represents a noteworthy inclusion to the already distinguished portfolio.
The launch of Haku® Vodka represents another bold step in Beam Suntory's ambitious journey to expand its premium portfolio in India, marked by several new brand launches across the country in recent years, and is set to make its mark across multiple markets, including Maharashtra, Goa, Delhi, Uttar Pradesh and Telangana. It will range from INR 3,950 to INR 6,140.
About House of Suntory
Since 1923, Suntory has been renowned as the pioneer of Japanese Whisky for its House of Master Blenders and for their Art of Blending. Founder Shinjiro Torii built Japan's first malt whisky distillery in Yamazaki, and the Suntory legacy continued with Torii's son and Suntory's second Master Blender, Keizo Saji, who continued to establish distilleries including the Hakushu distillery. As the generations of Suntory's master blenders carry on, Suntory Whisky remains committed to heritage and innovation. The House of Suntory has been named four-time Distiller of the Year at the International Spirits Challenge in London, UK (2010, 2012, 2013, 2014).
The portfolio includes two single malt whiskies: Yamazaki—Japan's number one single malt, multi-layered and profound, and Hakushu—verdant, fresh, and delicately smoky; and two blends: the noble blend, Hibiki—Japan's most highly awarded blended whisky and Suntory Whisky Toki. The House of Suntory portfolio also offers Roku Japanese Gin and Haku Japanese Vodka. Created from Japanese ingredients by the master artisans at the House of Suntory, Roku Gin and Haku Vodka represent the nature and spirit of Japan. This year, the House of Suntory celebrates one hundred years of whisky innovation—a major milestone not only for the brand's history, but for Japanese spirits culture as a whole. To mark this anniversary, the House of Suntory will be rolling out its centennial campaign throughout 2023.
About Beam Suntory
As a world leader in premium spirits, Beam Suntory inspires the brilliance of life by delivering great consumer experiences through its world-class portfolio of brands.  Known for its craftsmanship of premium whiskies, including Jim Beam®, Maker's Mark®, Basil Hayden® and Knob Creek® bourbons; Japanese whiskies, including Yamazaki®, Hakushu®, Hibiki® and Toki™; and leading Scotch brands including Teacher's, Laphroaig® and Bowmore®, Beam Suntory also produces leading brands such as Courvoisier® cognac, Tres Generaciones, El Tesoro and Hornitos® tequila, Roku™ and Sipsmith gin, Canadian Club® whisky, and is a world leader in ready-to-drink cocktails, with brands like -196 and On The Rocks® Premium Cocktails.
A global company with approximately 6,000 employees in more than 30 countries, one of Beam Suntory's core values is Growing for Good and through its Proof Positive sustainability strategy, the company has committed to ambitious goals and investments to promote environmental sustainability in its operations, ensure the company has a positive impact on the communities where employees live and work, and programs to educate and inform consumers to make the right personal choices about drinking. Headquartered in New York City, Beam Suntory is a subsidiary of Suntory Holdings Limited of Japan.