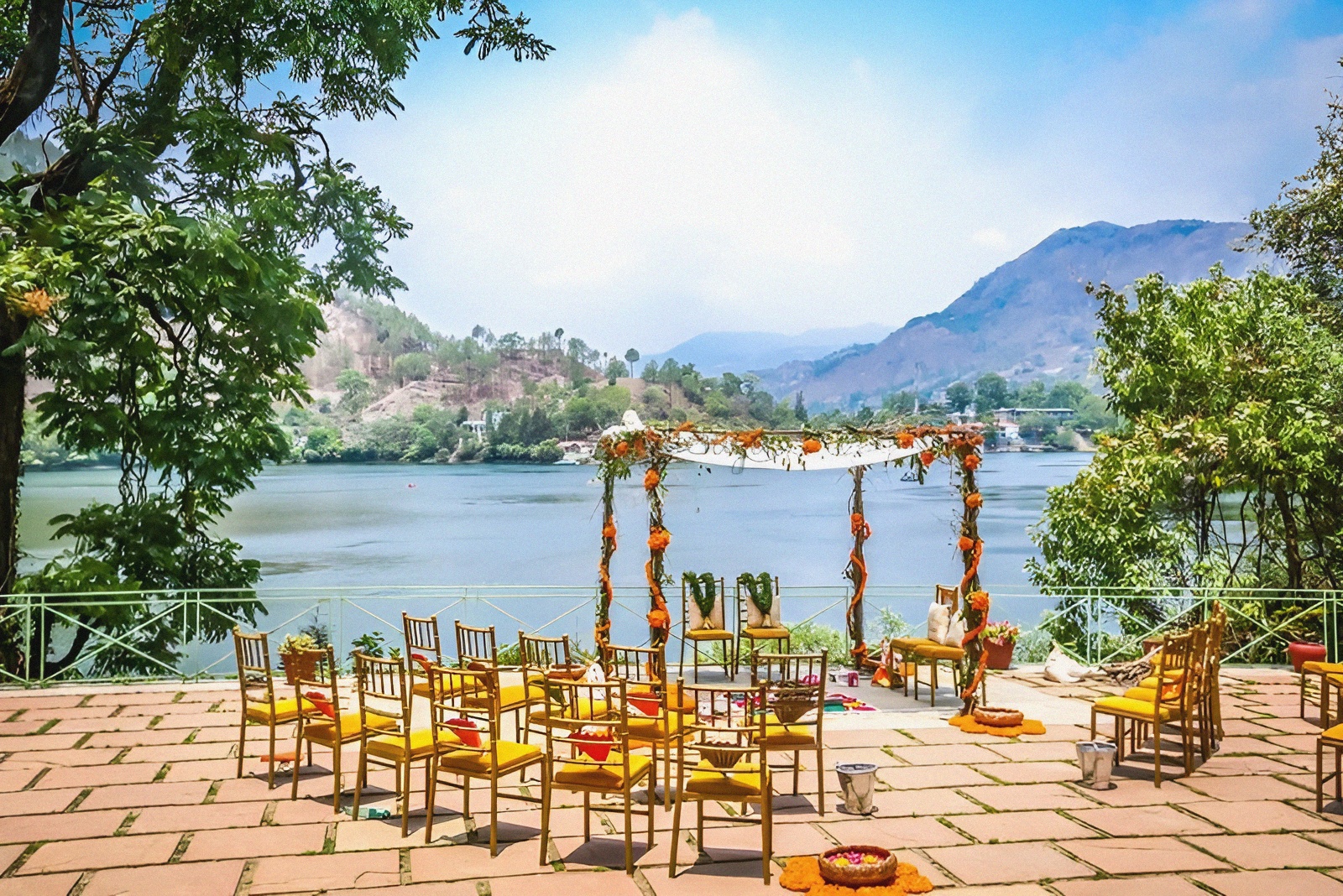 KK Joshi, Public Relation Officer, UTDB
If marriages are made in heaven, what better place there could be to solemnize them, than the Land of Gods or Devbhoomi as Uttarakhand is popularly known? This land of Gods is indeed the perfect place to begin a new chapter of one's life… Would-be couples with their wedding entourage visit Uttarakhand to receive Heavenly Blessings during their 'Saat Pheras'.
Uttarakhand Tourism recently tweeted about Auli as a popular winter wedding & holiday destination. "Surrounded by coniferous and oak forests, with a panoramic view of the peaks of the Himalayas. Also a renowned hiking & skiing place in the high reaches of Uttarakhand."
Even Prime Minister Shri Narendra Modi described Uttarakhand at Mana village, "Today, the entire country takes pride in our spiritual centers, and the land of Uttarakhand is witness to this change."
The state is full of such beautiful locations as Ramnagar, Dehradun, Mussoorie, Rishikesh, Triyuginarayan Temple & other such beauteous places that are the perfect venues for visually striking pre-wedding showers, marriage ceremony & reception. The would-be couple's wedding album will be no less than pure gold possessing their most precious moments in the mesmerizing backdrop of mountains, lush green valleys, bugyals & river banks of Uttarakhand.
One of the leading wedding tourist destinations, Uttarakhand already boasts more than 400 weddings in the year 2021-2022 as yet from outside the state. Uttarakhand government now plans to lead this INR 5,00,000 crore industry to INR 15,00,000 crore in the next few years.
In one of its latest Tweets, Uttarakhand Tourism writes, "Have a starry (wedding) with the skies of Brahmatal! With colossal mountain peaks shimmering against a star-studded sky, the campsite near Brahmatal Lake offers excellent stargazing opportunities."
Triyuginarayan temple, is a popular wedding spot for couples aiming for an eternal union. The gushing Songanga & Mandakini rivers are like the perfect wedding dholakis lending an enthralling vibe under the star-studded sky. It is believed that Lord Shiva and Goddess Parvati got married at this place and the solemn alliance was witnessed by Lord Vishnu. It is also believed that the sacred fire that witnessed the eternal union of Shiva and Parvati has been burning inside the temple for the past three yugas, hence the temple name is Triyugi- Narayan. Inside the temple premises lie three bath kunds , it is believed that deities, saints and sages who attended the marriage ceremony took bath in these kunds . These kunds still exist and are known as Rudrakund, Vishnukund and Brahmakund . The water in all these three kunds comes from Saraswati Kund. As per the local belief one who bathes in any of these three kunds, his every wish is fulfilled.
Situated at an altitude of 1,980 metres, this nature-adoring temple offers a grand view of the snow-capped mountains of the Garhwal division. Triyuginarayan temple is located 12 km from Sonprayag in Rudraprayag district and can be reached via motorable road. For trekking enthusiasts, this distance from Sonprayag reduces from 12 km to 8 km. Despite being located at an altitude of 3,285 metre, this trek route of Sonprayag – Maggu Chatti via Triyuginarayan temple is well maintained and is frequently used by the villagers here. The trek route up to the Triyuginarayan temple is full of lush green and dense forests, agricultural fields and mesmerizing presence of waterfalls which makes trekking tireless. Those who wish to get married here or planning to visit this place can stay at Sonprayag, where there are many properties equipped with state-of-the-art facilities run by Garhwal Mandal Vikas Nigam (GMVN). Aside from this, there are also luxury hotels and resorts in the middle of nature.
Other than that, there are also various marriage gardens surrounded by majestic hills & over 1000 resorts all over for intimate weddings such as Bhimtal, Almora, Mukteshwar, Ramgarh & Ranigarh, other than the aforementioned popular spots.
Jim Corbett & Naukuchiatal are other preferred locations for pre-wedding shoots & Mandap ceremonies amidst the backdrop of lush green flora, mesmerizing lakes & echoing hills.
Lying on the outskirts of Nainital, Saat Taal is another perfect wedding destination. In one of the Tweets, Uttarakhand Tourism describes it as "a group of 7 pristine mountain lakes nestled within a dense oak forest. Unexplored spots & trails that can be discovered through delightful nature walks."
The delectable cuisines of Uttarakhand have an old-world charm proving as Live magnets for weddings & the various traditions provide the perfect setting.
Uttarakhand Tourism Minister & Chairman of Uttarakhand Tourism Development Board (UTDB) Shri Satpal Maharaj is ensuring the development of further infrastructure for the construction of smoother & wider roads as well as more resorts & open marriage gardens in such places as the famous Triyuginarayan Temple. The local population is being offered subsidies for building these resorts, banquet halls & marriage gardens as a means of self employment. There's also a plan to develop George Everest in Mussoorie & other unexplored sites for destination weddings.
The Minister recently Tweeted about the construction of Uttarakhand's very own Film City that is in the pipeline. He wrote that the film city will further popularize the breathtaking splendour of the state all over the world & will also give a huge boost to its tourism department.