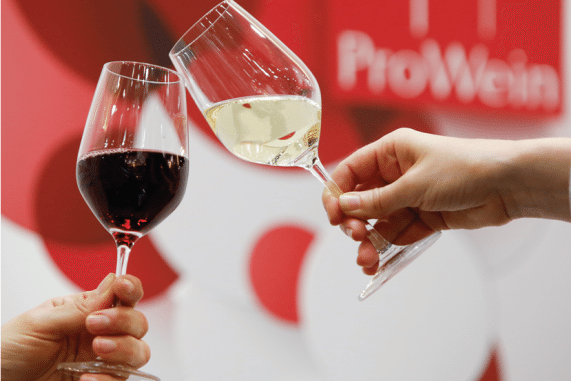 ProWine Mumbai launched its first edition at the prestigious The St Regis Mumbai on November 17 to 18. ProWine Mumbai is a part of the globally iconic ProWein World and is jointly organised by Messe Düsseldorf India and All Things Nice.
The event kick-started with champagne popping and an inaugural ribbon-cutting ceremony attended by dignitaries from the US Consulate, the Consulate General of France, Australian High Commission, South African Consulate, Trade Centre of Argentina, Republic of Mauritius, corporate heads and the industry associations with media partners.
As the first in-person trade fair for the wine and spirits sector in India since the start of the COVID pandemic, ProWine Mumbai was well received and featured over 200 brands from 70 companies across 13 countries with 2,017 attendees.  
Over two days, the 3 exhibition halls were buzzing with tastings and good camaraderie as the industry caught up with each other and facilitated business meetings.
Visitors at ProWine Mumbai ranged from large hoteliers, prominent restaurateurs and bar owners, importers, distributors and retailers, sommeliers, chefs and food and beverage teams. 
The French Pavilion led by Business France, innovatively provided access to visitors to speak to the wine producers in France digitally throughout the day. In the Spirits Pavilion, visitors were able to taste and meet producers of gin, vodka, single malts, rum, tequila, craft beverages and beer. The highlight for visitors at the Spirits Pavilion seemed to be the innovative cocktails that imbibed fresh ideas and were artistically curated. Also on display were bar and glassware products and premium drinking water brands. 
Thomas Schlitt, Managing Director Messe Düsseldorf, India said, "It fills me with joy and gratitude to see this amazing recognition from the industry stakeholders in India for the 1st ProWine Mumbai event. Going from being a ProWein Educational Campaign to a first-ever full-fledged comprehensive trade fair for the Wine & Spirits industry is the reflection of developing the market for the future growth of the industry in India. I am glad that at the maiden edition most major players from India and representation of 7 leading wine-producing countries were represented. With this successful premiere, we have laid the foundation for ProWine Mumbai to be the ideal platform to Meet – Network – Taste and connect the market as an annual meeting place. Cheers!!" 
"We are thrilled to have put in place the very first business platform for the wine and spirits industry. We are overwhelmed by the fantastic response, we believe ProWine Mumbai will elevate the future of the wine and spirits industry in India and we hope you enjoy all that ProWine Mumbai will offer you in the coming years", said Nikhil Agarwal, Founder – All Things Nice and Co-organiser of ProWine Mumbai.
The ProWine Masterclasses that ran alongside the show had a packed audience for all 15 sessions over the 2 days in a separate hall. The masterclass program was represented by eminent speakers from across the industry, a good mix of the old mentors and the young trailblazers introducing new trends, the best of knowledge and tastings that covered a range of wine and spirit categories. ProWine Mumbai gave the audience complimentary access to this experience.
The Masterclasses also digitally brought in international speakers  and orchestrated their tastings onsite. 
 "The ProWine Mumbai was a real success and we are really proud to have been part of it with our 13 French producers in the Pavilion," said Mathilde Bertille, Trade Officer Agribusiness Department, Business France India. 
"It was wonderful. It gave us the opportunity to introduce ourselves & meet different people in business," stated Shruti Gaikwad, representing the Consulate of Argentina. 
"A great opportunity to reach, interact and connect with the consumers. Also, a brilliant chance to meet and network with the industry folks. It was an adequately planned event," added Nikhil Varma, Amrut Distilleries Pvt. Ltd. 
Exhibitors at ProWine Mumbai 2021 included renowned companies such as Brindco, Pernod Ricard, William Grant & Sons, John Distilleries, Grover Zampa Vineyards, Amrut Distilleries, thinKitchen, Brown Forman and many more.
Day 1 concluded with an Exhibitor Networking Evening which was well received by the industry as people from the trade could finally meet socially in a safe environment.
Day 2 concluded with a 6 bottle champagne popping ceremony to celebrate a well-executed show. It was followed by the Consumer Evening which turned out to be the perfect after-party for the launch of ProWine Mumbai, as well-heeled consumers came in, tasted and had a merry time. 
The organisers had implemented strict measures to ensure that all hygiene and safety protocols for this type of trade show were in place at all times. More than 14,000 glasses were used at ProWine Mumbai and all of them were washed at 90 degrees and with sanitizing products.