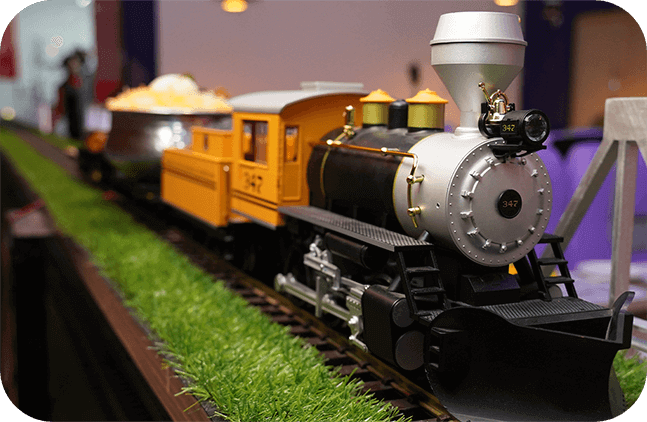 Platform 65, a train-themed multicuisine restaurant with origins in Hyderabad, has witnessed
exemplary love from its patrons since the launch of its first outlet. Platform65 is the
brainchild of Sadgun Patha, Managing Director and Co-Founder of the restaurant and is led
by Mr. Sarveswara Rao, Founder, Mr. Vinodh, Co-Founder and Mr. Madhu, Co-Founder.
With a rapid growth curve over the last few years, the brand which values quality as its core
and adopts innovation as its mantra is now spreading across India. In a free-wheeling
conversation with Asmita Mukherjee, Sadgun Patha, MD & Co-Founder of Platform
65 shares the brand's unique journey till now and his plans to take the brand to the next level.
What are the specialities of Platform 65?
Platform 65 is a unique train-themed restaurant, and all of our outlets are having different sub-themes under the main train theme. The Kondapur outlet has world-famous places as sub-themes, the Kompally outlet has a mountain sub-theme, whereas, KPHB which is also our first outlet showcases the famous railway stations of India. So, a patron must visit all our outlets to enjoy the ambience which is different across all our outlets.
Along with this we also have a diverse menu to offer, which has almost 500 dishes and includes cuisine spread across Telugu, Tandoor, Chinese, North Indian, and many more. Our aim is to satisfy patrons with good food and for that, it is important to retain our quality across all our outlets. We train all our Chefs in our headquarters so that our customers can get the same taste and quality in each of our outlets.
What kind of a growth rate do you foresee in FY 23-24, and how are you planning to drive that growth?
Due to the love of our patrons, we have achieved rapid growth in a short while and foresee 60% expansion growth in FY 2023-2024. As a brand, we have a very good repeat clientele
number – almost 27-30%, which is a testimony of customer loyalty to our brand. Currently, we have 7 branches and in the next quarter, we are planning to launch 4 outlets, one each in
Vizianagaram, Warangal, Rajahmundry, and Bengaluru. The work is going on at a smooth
pace and we are just waiting for the inauguration to happen. After that within the next 6
months, we will be targeting Chennai, Tirupati, and Nellore. The recce is progressing well
and we are on the verge of finalising the location. We are also planning to introduce Platform
65 in Mumbai and Delhi soon.
What are some of the innovative ideas that you have adopted at Platform 65?
Covid-19 made contactless food delivery a fad. But even before Covid struck, we had already
adopted contactless food delivery from the kitchen to the table by transporting cooked food
on trains directly onto the customer table. If the customers want, they can enjoy the food by
unloading the food from the train on the table and self-serving themselves, or they can also
ask for assistance from the waiters.
We have a team of 4 members who travel pan India to aggregate innovative ideas which can
be adopted by Platform 65. In the food business, innovation is the need of the hour which
makes your brand stand out from the competitors.
We have recently introduced our own food delivery app. By ordering through the Platform 65
app, customers can avail of a discount of 15% along with free deliveries within a radius of
5kms from our outlet. Another innovative aspect is that we have also introduced our
membership card which offers a flat 15 % discount for the loyal customers in any of our
outlets, and along with that, we also provide personalised gifts to them as our token of
appreciation.
We attract groups by providing a discount to corporates. For any corporate parties or
meetings, we provide them with a flat 10% discount. We also have our catering unit which
can be booked for a minimum of 30-40 pax.
What trends do you foresee in Hyderabad's F&B space?
COVID-19 has made people more health-conscious. We understand that this trend will grow
in the years to come. Many of the dishes that we offer are following old healthy recipes. One
such example is our Chitti Muthyalu Pulao which consists of Samba variety rice along with
chicken or mutton. Chitti Muthyalu or small pearl rice is rich in Magnesium, Fibre, Folic
Acid, Calcium, and Iron which increases the immune system strengthens muscles and makes
the skin look shiny. We recommend this dish to each of our patrons who are health conscious.
What are the B2B partnerships that you are planning to have?
Right now we don't have any B2B tie-ups but in the future, we are of course planning to
explore this avenue, as we think it is a great way to promote and expand.
asmitamukherjeehbiz@gmail.com
asmita.mukherjee@saffronsynergies.in