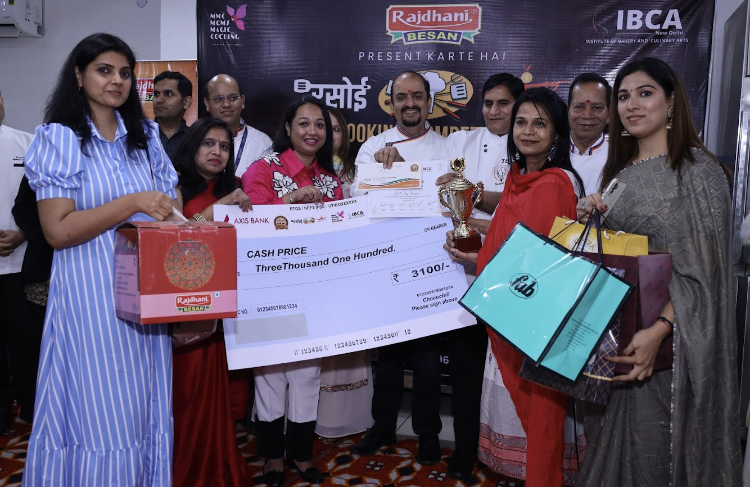 Institute of Bakery and Culinary Arts organized a "Rasoi Ke Dhurandhar" Cooking Competition. The objective of this competition is to give an opportunity to participants to showcase their talent and learn from the most experienced chefs. The event was held at the institute's campus, and it witnessed enthusiastic participation from the students. Renowned chefs from the hospitality industry were part of the jury members of the competition.
Kajal Sharma secured the 1st position, Upiika Roy Ranjan won the second position, and Rekha Prakash secured the third position in the competition. Anish Gupta won the Excellence in Hygiene award and Vidhi won Excellence in Technique award.
The competition provided a platform for the participants to showcase their culinary skills and creativity. The participants were required to prepare a three-course meal along with their signature dish within a stipulated time, using ingredients provided by the institute. The dishes were judged on various parameters, including taste, presentation, innovation, and hygiene.
The panel of judges comprised renowned chefs and culinary experts who evaluated the dishes based on their knowledge and experience. Chef Sireesh Saxena was present as chief Judge and Chef Ashish Bhasin and Kamaldeep Kaur grace their presence as special Judges. Various renowned chefs of the industry chef Nishant Choubey, Sanjeeb Ghatak, Shailendra Singh, and Ashish Singh also attended the competition.
While speaking about the competition Dr. Chef Balendra Singh Said "We always feel excited while hosting these cooking competitions, as it provides an opportunity to showcase the incredible culinary talent in our local community. We are always looking for ways to promote the art of cooking and inspire individuals to pursue their passion for culinary arts, and this competition is a perfect platform to do just that."
The Institute of Bakery & Culinary Arts takes pride in providing such platforms for its students and continues to encourage them to strive for excellence in their culinary pursuits.