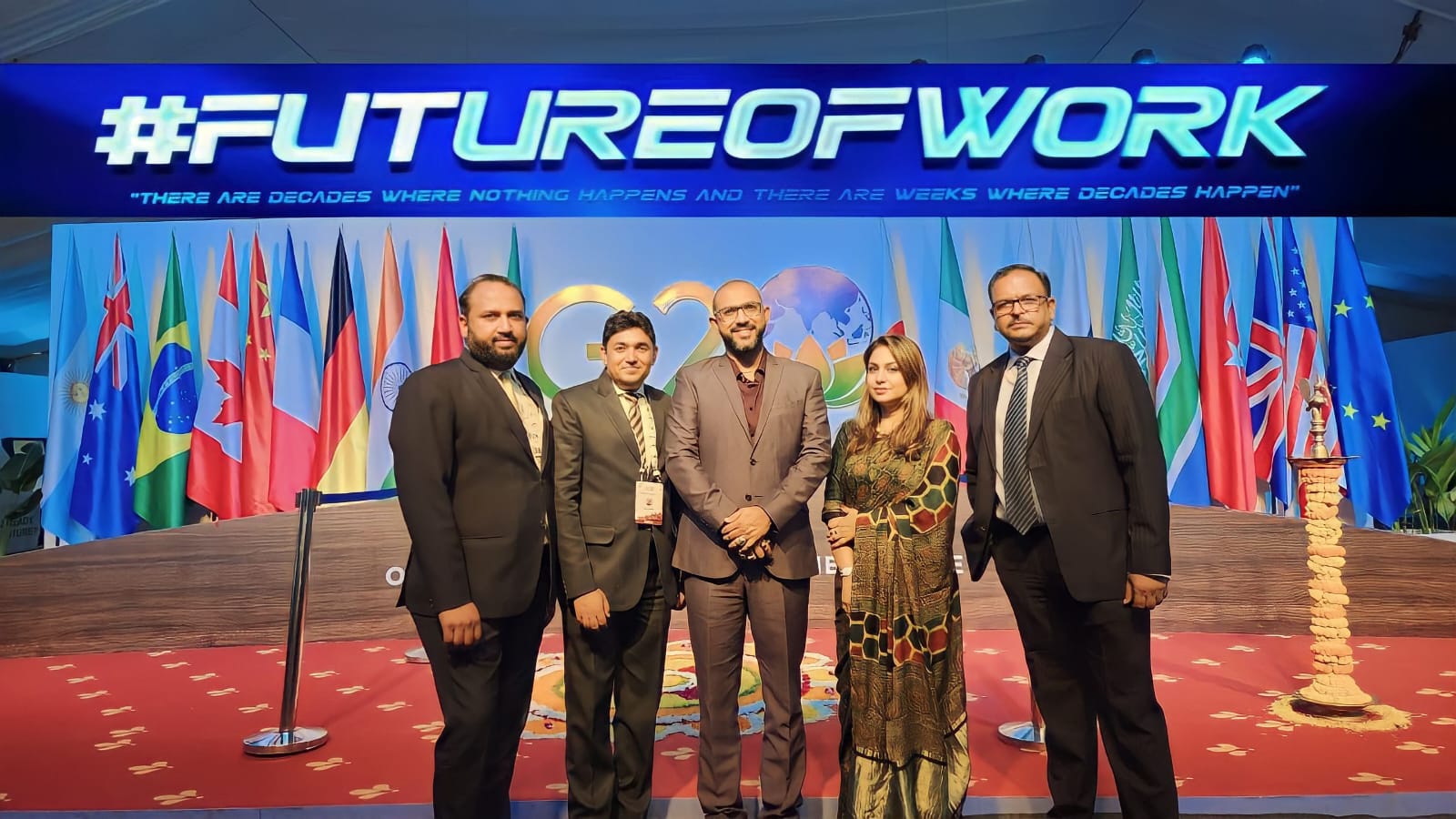 The G20 summit, comprising 19 countries and the European Union, is a premier forum for international economic cooperation, and India's G20 Presidency provided an excellent opportunity to showcase India's tourism potential to the world. Tourism & Hospitality Skill Council, Lexicon Institute of Hotel Management, and EasyRecruit+ collaborated to present 'The Future of Tourism' at the 3rd G20 Education Working Group Meeting in Bhubaneswar.
The event was inaugurated by Mr. Dharmendra Pradhan, Minister of Union Education and Skill Development in India on Sunday, 23rd April 2023. Over 100 stalls came up at the exhibition on the "future of work" on the side-lines of the 3rd Education Working Group meeting under the G20 Presidency, where Tourism & Hospitality Skill Council, Lexicon Institute of Hotel Management, and EasyRecruit+ showcased 'The Future of Tourism' and how the tourism industry was rapidly adopting new technologies such as AI-powered recruitment and sustainable practices. Through this transformative approach, the primary motive was to empower local communities to participate in the tourism value chain.
The exhibition had representation from industry, academia, civil society, government, etc., focusing on different aspects of the "future of work" converging into a central idea of how we perceived work, workers, and the workforce through the prism of emerging tech at an unprecedented, accelerated pace. Delegates from G20 countries attended the meetings to discuss various programs under the Education Working Group. The G20 Education Working Group had already had two meetings in Chennai and Amritsar, with three more supplementary meetings scheduled before arriving at a broad consensus in June.
Recruiters across various industries often face challenges in screening and onboarding candidates. EasyRecruit+ is an AI-powered recruitment platform that helps recruiters evaluate candidates based on multiple criteria, such as aptitude, technical abilities, attitude, cognitive and communication skills, and verified backgrounds. With its streamlined recruitment process, EasyRecruit+ enables recruiters to locate and hire the right talent for the job, enhancing the overall quality of hires across various industries, including the tourism industry.
"AI is a boon for the hospitality industry. It is revolutionizing the way we do business by automating repetitive tasks, such as booking and contactless check-in processes, and freeing up staff to focus on providing personalized service to guests. AI can also enhance customer service through chatbots and virtual assistants that can assist guests with booking reservations, answering questions, and providing recommendations. We are excited to be part of this partnership and to showcase the transformative power of AI in the tourism industry," said Nasir Shaikh, Group CEO of The Lexicon Group, MultiFit, EduCrack, and EasyRecruit+
The hospitality industry on the other hand is rapidly evolving, and to stay ahead of the curve, skilled professionals are in high demand. That's where Lexicon Institute of Hotel Management a hotel school "By the Hoteliers, For the Hoteliers" comes in. With a focus on preparing students to be "Day Zero Professionals," the institute provides ample theoretical, practical, and experiential learning opportunities. Through live industry projects and a commitment to generating future leaders, the institute is ensuring that the hospitality industry in India and beyond has access to a skilled and knowledgeable workforce.
The CEO of the Tourism & Hospitality Skill Council, Mr. Rajan Bahadur, highlighted that "The tourism industry was at a critical juncture in the post-pandemic era, requiring a complete overhaul. With the renewed focus on promoting travel in India, hospitality, inter-city travel, and tourism have an exciting opportunity to grow sustainably. To fully capitalize on this potential, the industry has to embrace innovative technologies like AI that could transform operations with exceptional accuracy and precision, leading to superior service delivery. Through this partnership, we aimed to showcase the immense potential of AI-led digitization in creating a more inclusive, efficient, and resilient tourism industry."
Tourism & Hospitality Skill Council, as India's foremost industry-led skill council in the tourism and hospitality sectors, brought a wealth of expertise to this partnership. By focusing on sustainable tourism practices and aligning with the Sustainable Development Goals, the council was dedicated to creating a future of tourism that benefits both tourists and local communities.
The partnership demonstrated how sustainable tourism and digitization could provide "Ease of Tourism" to benefit both international and domestic tourists. Through this partnership, the Tourism & Hospitality Skill Council, Lexicon Institute of Hotel Management, and EasyRecruit+ aimed to bridge the skills gap in the tourism industry by providing future leaders with the practical skills and training necessary to succeed in this exciting and growing industry.