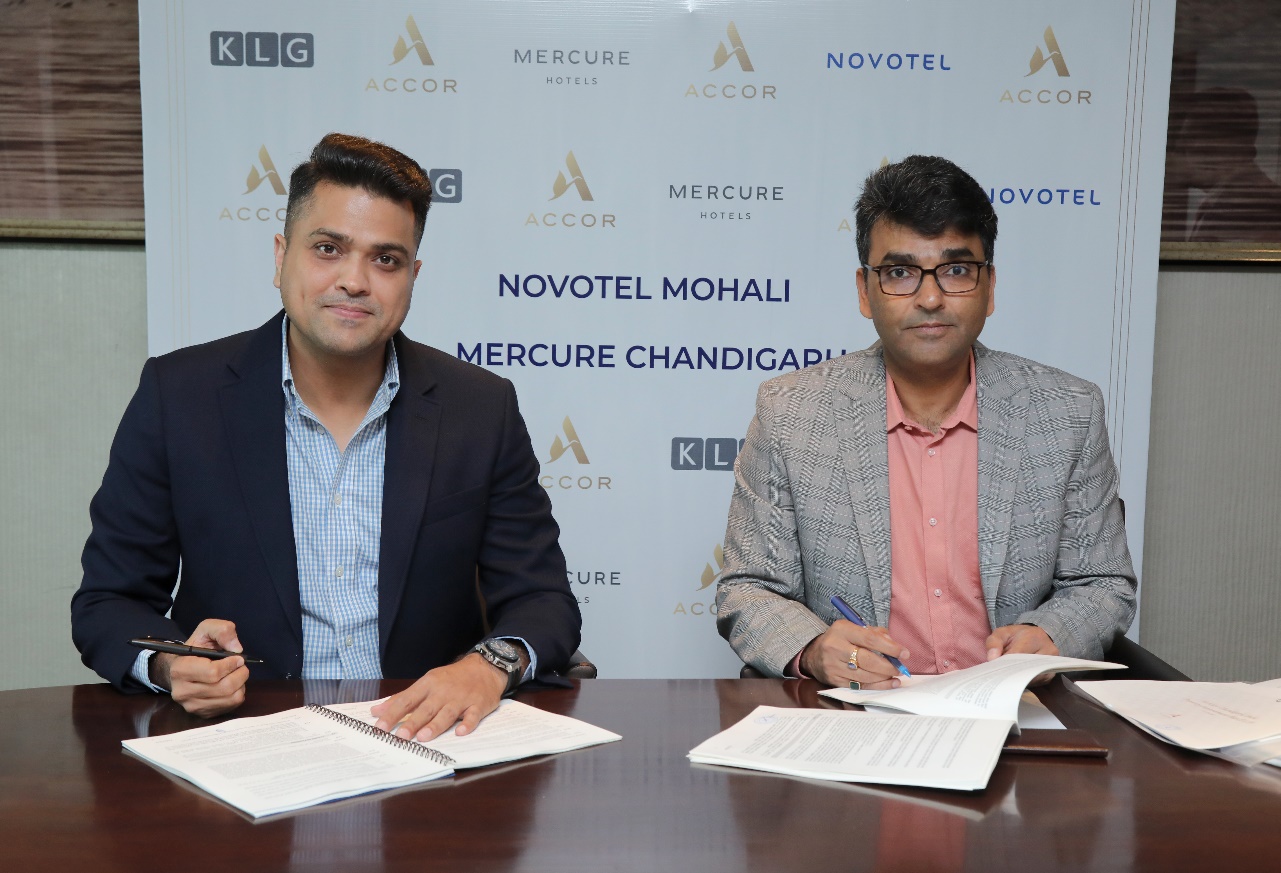 Accor continues to expand its footprint in India, with the signing of Mercure Chandigarh Tribune Chowk, scheduled to open late 2023, and Novotel Mohali Airport Road, scheduled to open in 2026.
The agreement for Mercure Chandigarh Tribune Chowk was signed with KLG Enterprises, second-generation entrepreneurs, with diverse business interest in Hospitality and Automobiles across North India, and whom are also owners of the already operating Novotel Chandigarh. The agreement for Novotel Mohali Airport Road was signed with Starlite Corporation, owned by KLG Enterprise.
Aniruddh Kumar, VP Development, Accor India & South Asia commented, "We are delighted to expand our presence in Chandigarh and Mohali by adding more properties within the Mercure and Novotel brands. We will continue the legacy of our existing portfolio by giving our guests a unique and enriching experience. We look forward to catering to the metropolitan city's growing tourism and business activities."
Both properties boast landmark locations within the cities, with Mercure Chandigarh in Tribune Chowk and Novotel Mohali on the road to the airport. Mercure Chandigarh Tribune Chowk will feature 60 rooms, while Novotel Mohali Airport Road will offer 120 rooms. Both properties offer extensive meeting and conference facilities, alongside multiple restaurants.
Novotel Mohali Airport Road, which will be developed within the Mohali Industrial Area, will furthermore offer a bar and a spa, alongside a fitness centre and gym.
On the signing, Akshay Grover, partner, KLG Enterprises and Starlite Corporation stated, "This prestigious association is a reiteration of trust in our long partnership with Accor and we look forward to growing our portfolio with these two properties with them."
The signing of projects further strengthens Accor's already dominant position in India, with its existing 56 properties across a selection of brands, including Raffles, Fairmont, Sofitel, Pullman, Grand Mercure, Novotel, Mercure, ibis and ibis Styles. With six more properties in the pipeline set to open next year, Accor is focused on providing guests with an unparalleled and diverse offering across India.