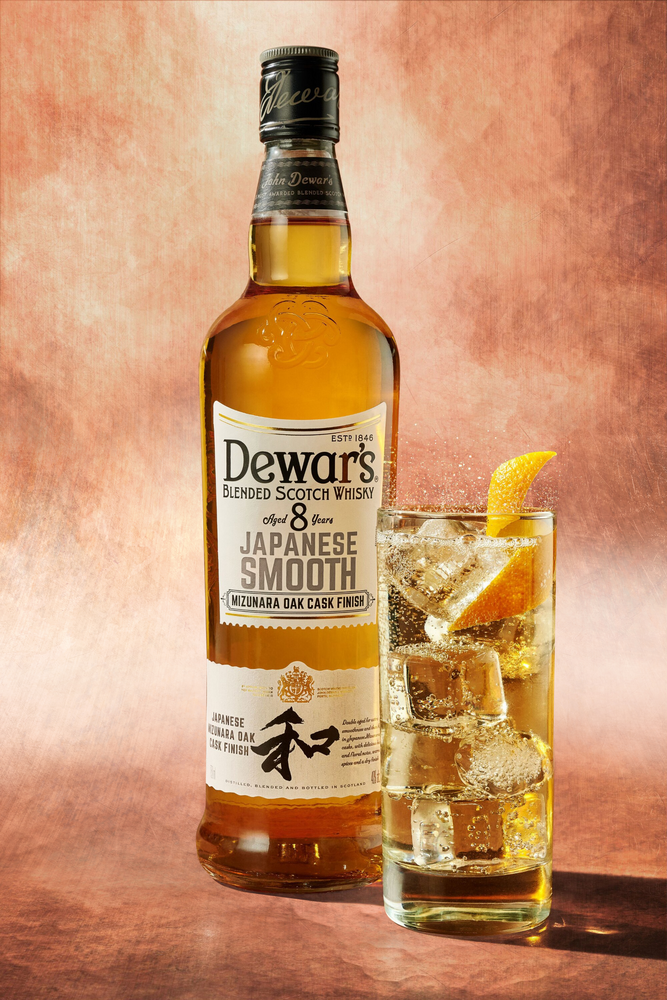 DEWAR'S Scotch Whisky launched the DEWAR'S Japanese Smooth — a new scotch whisky innovation that flawlessly combines the finest elements of the whisky-making traditions and cultures of Scotland and Japan in a bottle, at The Great Eastern Mills in Mumbai. This latest edition of the DEWAR'S Cask Series features DEWAR'S double-aged Scotch whisky which is finished in Japanese Mizunara Oak casks. The resulting whisky is unique and features subtle floral honey and heather notes along with complex sandalwood aromas on the nose followed by cinnamon spice on the palette – a result of the porous qualities of the rare 200-year-old Mizunara oak tree variety, also known as the "water oak", which is used for the DEWAR'S Japanese Smooth Cask Series.
DEWAR'S Japanese Smooth Whisky was launched at an experiential event, that blended the best of two diverse cultures, featuring exciting popups by visual artist Santanu Hazarika and clothing brand Walking Verticals. The experience brought to life various elements of Japanese and Scottish lifestyle and culture including fashion, art, music, culinary, mixology, and more.
Commenting on the launch, Vijay Dev, Category Lead – Global Whiskies, Bacardi, said, "Over the past few years, the choices of Indian consumers have evolved significantly, with more consumers being drawn towards refined tastes. These discerning preferences for premium, combined with an open and evolved palette have made them more open to experimenting, exploring, and dabbling with new drinking experiences, making DEWAR'S Japanese Smooth Whisky a perfectly timed unique offering. As festive spirits soar, we are thrilled to introduce consumers to this new and exciting option for them to explore as they enjoy the celebrations. The Japanese Smooth scotch whisky, offering a confluence of two cultures in a bottle, comes as a permanent addition to the Cask Series. This latest addition to the DEWAR'S range has been well received across markets, and the rising popularity of Japanese whiskies makes us confident that our consumers in India will enjoy DEWAR'S Japanese Smooth Whisky."
During the event, Jonas Ax, Head of Advocacy, Bacardi India and Myles Caroll, DEWAR'S Brand Ambassador, showcased DEWAR'S Japanese Smooth and its signature heather and honey overtones, as well as the flowery and woody flavours of the Mizunara oak. This was followed by an exquisite fashion show launching the new range of unique T-shirts and kimonos by DEWAR'S x Walking Verticals & Santanu Hazarika, a collection which brought to life key elements of both the cultures.
Myles Carroll, DEWAR'S India Ambassador, Bacardi said, "The smooth yet full-bodied Mizunara finish of the DEWAR'S Japanese Smooth complements the signature DEWAR'S heathery floral honeyed notes while subtly introducing deep woody notes of sandalwood and cinnamon spice. With this new indulgent and pleasurable scotch whisky innovation, we want our customers to experience and enjoy the perfect amalgamation of the cultures of Scotland and Japan, whether it be neat, on the rocks, or in a classic Japanese style highball."
Expressing his excitement in being part of this unique collaboration, Santanu Hazarika, said, "Art is a key reflection of any culture, and I am excited to showcase the blending of the rich and distinctive history of these two cultures through our new and unique range of clothing. This collaboration has been a great opportunity to connect with newer audiences. I am thrilled to take them along on a journey and make them experience the best of both worlds with my latest collection."
Be it Scottish manga style comic panels, cocktails infused with a mix of Scottish and Japanese ingredients, mouthwatering food, fashion pop-ups inspired by the history of both countries or electrifying performance by rappers Rae Mulla, SHAHRULE, DJ Shez, and DJ Proof. – the event offered the audience an uncharted experience into a world of newness and wonder.
With consumers at its core, DEWAR'S has always created offerings for consumers driven by passion, originality, and innovation. DEWAR'S is the only scotch that double ages its entire portfolio. In the cask series, it's even more exciting to bring two cultures together, two flavor profiles together that eventually ties back to what DEWAR'S has stood for in the past 176 years — Double Ageing.
DEWAR's also recently introduced the DEWAR'S Double Double series in India, which features an innovative four-stage ageing process and is available in three limited-edition liquids: 21 YO, 27 YO, and a 32 YO blend. Best known for its iconic DEWAR'S WHITE LABEL, it has expanded its family to create a portfolio of premium and super premium whiskies including DEWAR'S 12-Year-Old, DEWAR'S 15-Year-Old, DEWAR'S 18-Year-Old, DEWAR'S Double Double Series, and the exclusive DEWAR'S 25 years old.
The DEWAR'S Japanese Smooth is the latest innovation in the DEWAR'S premium range and has already hit the shelves in Delhi, Gurgaon, and Mumbai in 700 ml bottles and will be available in the remnant cities next year.