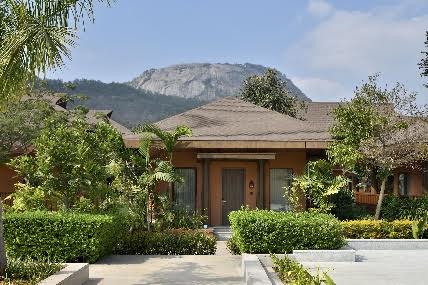 Tribute Portfolio– part of Marriott Bonvoy's growing collection of characterful, independent Resorts, welcomes its latest addition with the opening ofMulberry Shades Bengaluru Nandi Hills- A Tribute Portfolio Resort .This serene property  is nestled at the foot of the historic Nandi Hills and is a 25-minute drive from the Kempegowda International Airport. Rooted in the ethos of meaningful travel, the 102 key property nurtures an intimate design that invites the return to a simplistic life. The Resort is a beautiful confluence of natural elements like sweet bird song, earthly textures accentuating rustic shingle roofs, dark wooden pillars, natural stonework, brass artifacts, walkways interluded with lush greenery and panoramic views of the Nandi Hills lend a sense of space and home coming, encouraging the free spirited and curious minded traveller to forge deeper connections with the locale and community when travelling.
"We're thrilled to welcome this vibrant new Resort within Tribute's Portfolio to Bengaluru, one of the most cosmopolitan and progressive cities of India. This opening marks the eighteenth property to join our growing portfolio of brands in this city" saidRanju Alex- Vice President South Asia, Marriott International. This new hotel is set to present captivating design and truly authentic experiences tailored to the locale in Bengaluru."
One of the leading real estate developers in the country, The Prestige Group has a legacy of over three decades in real estate development. It has diversified business models across the Residential, Office, Leisure, Retail, and Hospitality segments with operations across 8 key locations in India. Commenting on the launch, Mr. Irfan Razack, Chairman & Managing Director of Prestige Group, said, "we are thrilled to add to our hospitality portfolio- Mulberry Shades Bengaluru Nandi Hills, – A Tribute Portfolio Resort  which has its own unique characterful personality where guests can seek to immerse themselves in the richness of the locale, to discover what defines Nandi Hills as a leisure destination and to experience a one-of-a kind warm boutique "
Mulberry Shades Bengaluru Nandi Hills, a Tribute Portfolio Resort is inspired by a beautiful story woven around the small joys and simplicity of childhood. The vibrant paintings, naturalistic murals and hand painted artwork adorning the resort, tell the story of a young girl named Santi who lived in an idyllic, rustic setting against the backdrop of the majestic Nandi Hills. Santi grew up on a Mulberry farm, under the watchful care of doting parents and a loving grandmother. Her childhood was spent in the company of warm cinnamon aromas, wild lush greenery, home grown herbs and the earthly fragrance of silkworms. Her lazy summer afternoons were filled with fun-filled explorations, gardening, plucking fruit, adventurous treasure hunts and unending stories. Mulberry Shades Bengaluru Nandi Hills, a Tribute Portfolio Resort embodies the beauty of Santi's childhood, with its imaginative spaces and thoughtful experiences that will evoke a sense of warm nostalgia
The resort comprises 102 vibrant villas and suites, each featuring bespoke, handmade furniture, eye-catching wall murals and local artwork. A three-fixture bathroom enhanced with natural stone and warm lighting with private verandahs favoring views of the foliage integrated into the landscape, are some of the unique features of the room categories. The resort has a carefully thought-out wellness and recreation calendar for guests to get busy and engaged – early morning somatic workouts, moonlight yoga, wine stomping, board games, pottery classes, books and binoculars for bird watching and musical evenings are some of the fun experiences lined up. Digital distractions are discarded in favour of spending time with loved ones in the company of nature.
Guests can enjoy an immersive culinary experience across three unique restaurants. Terra, the all-day dining offers a refreshing mix of seasonal and local specials with international favourites, enjoyed over uninterrupted views of the beautiful hotel landscape. The swim-up pool bar Asri serves small plates and creative cocktails that bring the garden to glass concept to life.Kokoon, the quaint cozy cafe next to the lobby is the perfect place for coffee brews, choicest selection of teas and baked local specialties available from early morning to late evening.
Guests can relax at the Ksema spa at the hands of expert therapists who offer a full range of spatreatments, facials and body wraps. A Turkish hammam, a couple jacuzzi, an open-air pool, a well-equipped workout studio, a pickleball court and a yoga and meditation room complete the wellness checklist. Kreo the game zone for grownups and a kids play area are open for some spirited fun with family and friends. The resort is pet-friendly, allowing guest to enjoy their stay with their furry friends in tow.
The resort is poised to be a sanctuary for small and intimate business meeting and social eventswith a banquet space measuring 2200 sq ft and a pre function area with abundant daylight and inspiring design. Additionally, Aurora the poolside deck measuring 1000 sq ft and an outdoor lawn Shanti measuring 2600 sq. ft allows for intimate cocktail evenings and open-air celebrations in the benevolent climate of Bengaluru.
"We're thrilled to welcome guests to Mulberry Shades Bengaluru Nandi Hills, a Tribute Portfolio Resort. Its true Indie spirit, vibrant social spaces and thoughtful experiences will help createmeaningful connections for the bold and intrepid traveller seeking to connect with the true spirit of the destination" said –Devidyuti Ghosh, Hotel Manager – Mulberry Shades Bengaluru Nandi Hills, a Tribute Portfolio Resort