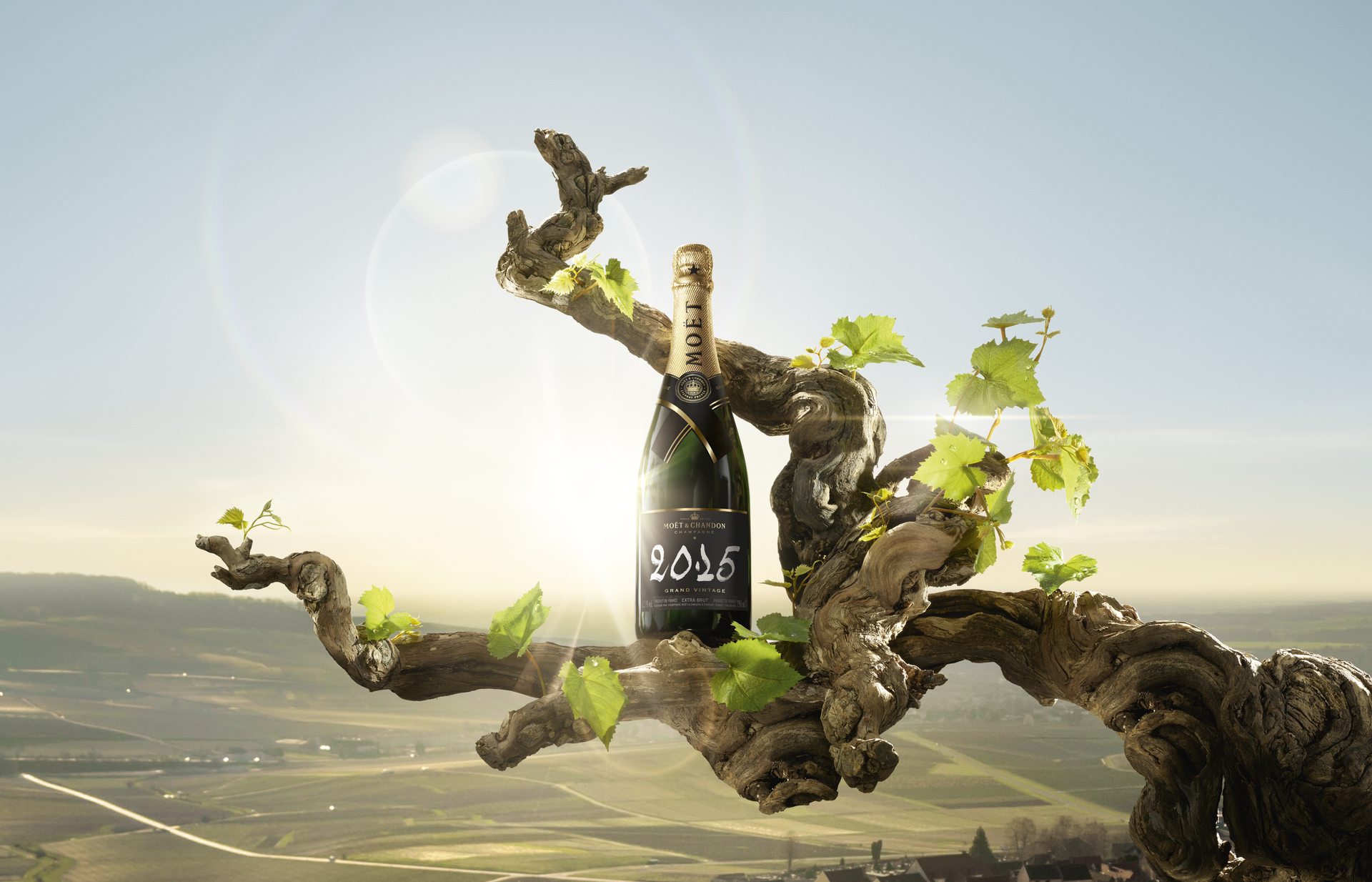 Moët & Chandon has recenly unveiled its Grand Vintage 2015 in white and rosé – the House's 76th vintage and 45th rosé vintage – made from grapes harvested in the late summer of 2015, characterized by ripeness and enveloping quality, and blended into champagnes of exceptional tenderness.
"Each Grand Vintage is my interpretation of a specific year, and as such, it is unique and will only be seen once. The Grand Vintage is a chance to discover the originality of a particular year through my eyes. It is not a 'summary' of the year but rather my interpretation of what the year represented. Like a photographer who frames a shot, I select the wines that will ultimately compose the final blend", said Benoit Gouez, Cellar Master, Moët & Chandon.
GRAND VINTAGE 2015
Moët & Chandon Grand Vintage 2015, born in a year of sharp contrasts, is a ripe, tender, and enveloping champagne. It is defined by its lemon-yellow color, luminous reflections, fine bubbles and creamy foam.  Its bouquet expresses restraint before subtly hinting at a soft and fresh white-green universe. Notes of breadcrumbs, fresh brioche and almond paste give way to elderflower and jasmine, then to white peach and watermelon, completed by elements of garrigue at dawn. The palate is direct and confident. The generous structure, with floral, aniseed and mentholated nuances, brings lightness and freshness to a sun-kissed vintage. The finish lingers on a slightly sappy note, with a delicate bitterness evoking fresh almonds.
GRAND VINTAGE ROSÉ 2015
Moët & Chandon Grand Vintage Rosé 2015 is distinctive by its brilliance, its spicy bouquet and its powerful palate. Garnet-pink shades with bluish reflections shine through its fine bubbles and creamy foam. Its initial aromas suggest sun-ripened dark berries, perhaps blackcurrant, blackberry and black cherry. Hints of fig and wild strawberry combine with spicy notes of pink and aromatic pepper, and all-spice.  Scents of flowery garrigue refresh the ensemble.  On the palate, the Pinot Noir dominates with a fruit that is concentrated, dark and deep. The tannins create angles, revealing facets, like a jewel in the rough. The mouthwatering bitterness of sloe and cranberry, with notes of mint and aniseed, refreshes the finish.