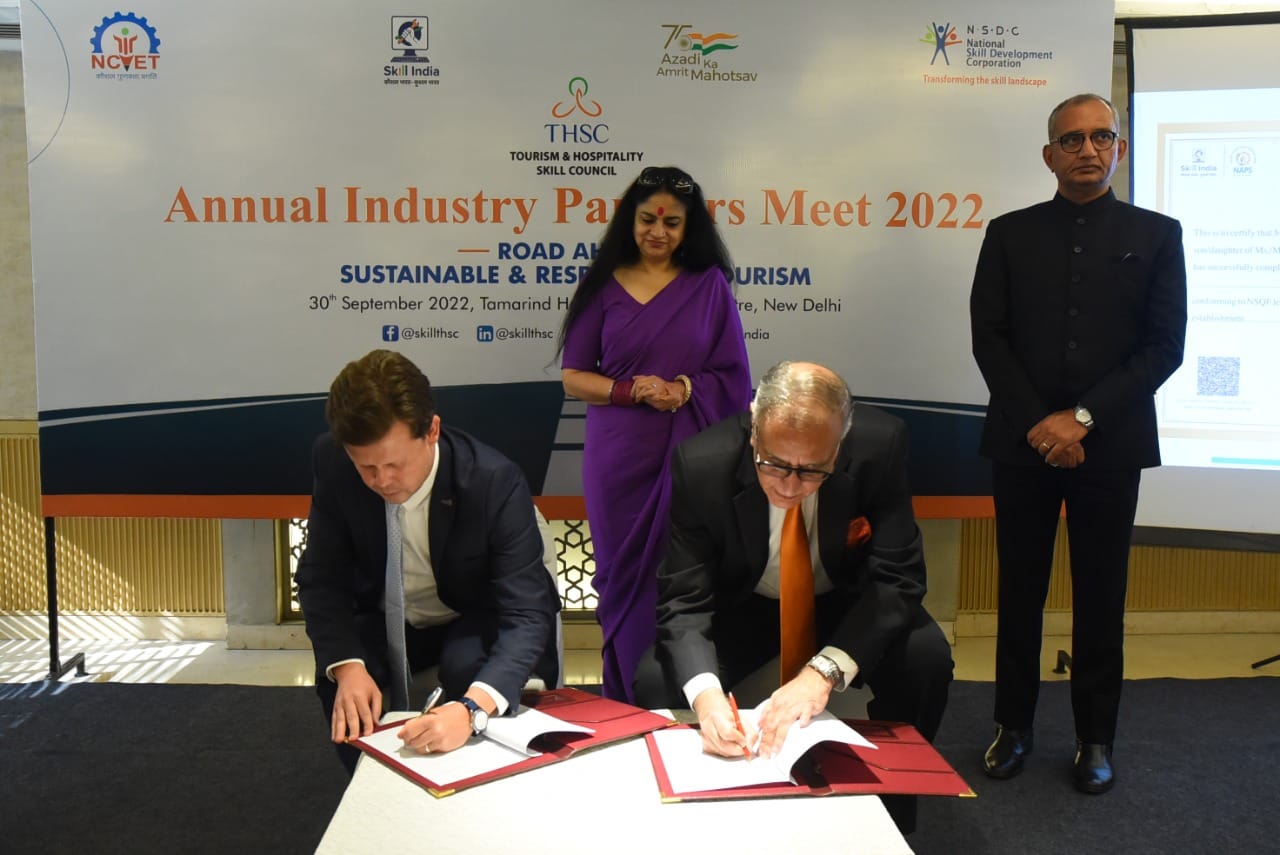 The Tourism & Hospitality Skill Council (THSC), an approved awarding body under NCVET, signed an important Memorandum of Understanding with American Hotel and Lodging Educational Institute (AHLEI), one of the foremost providers of quality resources to educate, develop, and certify hospitality educators, students, and professionals. It is widely recognized as the prominent leader in hospitality education and certification.
The agreement was signed by Rajan Bahadur, CEO THSC and Ed Kastli, International CVP AHLEI in presence of Atul Kumar Tiwari, IAS, Secretary Ministry of Skill Development & Entrepreneurship, Govt of India, Jyoti Mayal, Chairperson THSC along with 50+ prominent industry partners recently.
This agreement will help both the organizations to share knowledge, benchmark standards and provide access to globally recognised certifications. It will also contribute to the advancement of teachers, curriculum improvement and training readiness of students and existing hospitality professionals in India via this landmark collaboration.
THSC, established in 2014, is an apex body for vocational education & skill development in India focusing on Tourism & Hospitality. Since inception in 2014, THSC has enrolled over 1.5 million and successfully certified over a million youth. Having a network of 600+ Institutes, 100+ Colleges & 2000+ Industry Members, THSC's vision is to create a robust industry-aligned skilling ecosystem to promote Tourism & Hospitality sector and meet its mission of impacting millions of beneficiaries to get respectable employment opportunities for serving customers' needs.
AHLEI, established in 1953 as a non-profit education and training arm of the American Hotel & Lodging Association (AHLA). One of the largest trade hotel associations in the world with 35,000 hotel members and became part of the National Restaurant Association (NRA) in 2017. Mission to connect and leverage the resources of two trade organizations that are deeply committed to career success and upward mobility for current and future hospitality, restaurant, and foodservice employees.
To date, more than 18 million students and professionals worldwide hold at least one professional certification designation from the AHLEI and NRA. Over 2,000 schools, academies and universities globally entrust AHLEI for its high quality, industry-driven, researched, and practical learning content. AHLEI has been running India operations since 1994 and has benefited several institutes, enabling hundreds of students to get a leap into the world class hospitality program at a fractional cost compared to overseas programs.
Both organizations are honored and thrilled to collaborate in India, offering world class skill certifications in conjunction, which will firmly lead to a spike in the quality-of-service delivery. It will generate greater trust in the tourism and hospitality industry that currently faces a severe shortage of quality skilled manpower especially at the floor level.