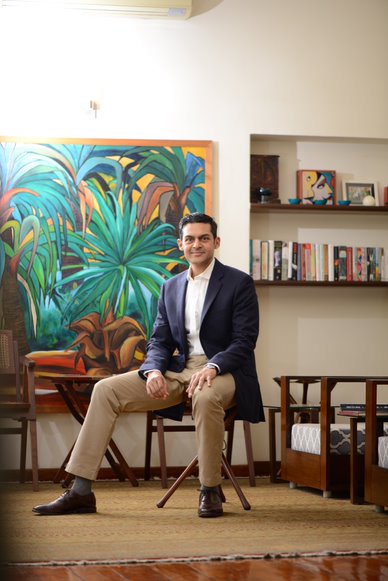 Luxmi Tea, one of India's largest tea producers with expansive estates from Assam, West Bengal, Tripura to Rwanda, Africa, gets a revolutionary 360-degree makeover this year. With a new logo, new packaging and innovative new blends, Luxmi Tea takes on a new avatar of Luxmi Estates for its products, and showcases the brand's legacy, origin story and an inspiring focus towards wellness.
One of the most distinct features of this new form is Luxmi Estates' new logo – 'the Hand Of Abundance'. While it retains the essence of the brand, the logo represents both, the blessing hands of the Goddess of Abundance as well the hands of the valued tea pluckers that pluck, sort, twist and roll the tea leaves in the estates depicted by lines representing terrain. Interestingly, in the Indian culture, 'Unke Haath Ki Chai' is a phrase commonly used to reminisce a special cup of tea made by an even special maker. The hand in the logo encompasses the hand that blesses as well as the hand that to bring out the strong, fragrant and inimitable aroma of the tea brewed by that someone special.
Speaking about this new avatar, Rudra Chatterjee, Managing Director, Luxmi Tea Group, said, "Change is the only constant, and to move onwards and upwards, evolution becomes imperative. We are grateful for the overwhelming love Luxmi Tea has received over the years, and we believe it to be our duty to upgrade into the best versions of ourselves for our consumers. Luxmi Estates has the essence of Luxmi Tea, along with an added flair of wellness, growth and abundance. This new avatar is here to spread our message of wellness far and wide and empower others to unlock their truest, healthiest selves. We are ecstatic to reveal this new version of us to the world and hope you will love it as much as we loved creating it."
Luxmi Tea Group is a brand that is deeply rooted in its history and geography. The lines and curves which are supplementary to the logo represent the topography and elements of flora and fauna that make each tea estate's story unique. In order to feature the pivotal role played by the topography and ecosystem in making of the exceptional tea, homage is also paid to elements of Nature, the flora, fauna, birds, animals and insects, that thrive at the estates and an integral part of each estate's ecosystem.
As a company, Luxmi Tea Group's mission has always been to empower consumers to make better choices towards wellness by providing choices, credible products, and educating people about the benefits of teas/infusions based on their origin and making this information more accessible. To take this a step further, the brand has over 15 tea blends and mixes, and has added more innovative flavors using functional ingredients like ashwagandha, tulsi, valerian root, to their range and made relevant information more accessible through its revamped packaging so consumers can make informed decisions for their health.